You might be wondering why I have been semi-radio silent for the last week. Well, it was a bit of a side-effect of something I have been testing out for a bit... my new "facelift!" Nothing major because I still like my color scheme, fonts, etc., BUT I definitely was in need of a new home page and side bar. Whether you are reading this as a feed or via the website (and can see what I'm talking about already), let me take you on a little tour!
Here is a reminder of my old
home page
from
my last blog redesign
in June of last year. Not a particularly interesting and not much of a statement because it just dove right into the most recent posts. Also, the sidebar started off good with a welcome, but just ended up as a long string of widgets without much organization. Lastly, the top menu was just okay, but I like lots of pages and eight wasn't cutting it. All of that has changed now!
P.S. - If you notice that
anything
is amiss, please let me know so I can fix it right up! Coincidentally, there are 10 major changes, so this isn't a Top 10 list on purpose, just a nice little coincidence!
Welcome to the new design!
1. New Pages
Now that I started woodworking and putting together round-up posts from Do Tell Tuesday, plus the anticipation of the new house and my sister's wedding, I want more pages for all of the new posts!
By the way, a bunch of the pages are still under construction, but I'm working on indexing my posts soon!
Here is a quickie list:
2. Lots of Menus!
Since I have more new pages, I need many more menus of course. :) Also, they look like widgets so they stand out from the background a bit more.
The important, reference type info is at the top.
Projects and more are on the bottom two menus, but with even more goodies.
3. New Slider Widget
Possibly my favorite addition to the homepage. I love it! I get to pick five rotating posts at the top, so it will be fun to see how often I update it. ;)
You can't actually tell, but instead of having 5 super-long post recaps on the front page, I have 10 quick peeks with the top picture and a few lines for much easier browsing
5. Subscribe Options on Top
Lately, I have had about one person a week ask to subscribe to my mailing list, so I realized that my subscription options were a bit hidden in the sidebar. Now, they're front and center! Or rather front and to the aligned to the right. :)
Now, let's check out more of the sidebar!
6. Tabbed widget #1
I love this tabbed widget because it hides a few options that some people want to see occasionally but might otherwise be clutter.
In this one, I put Popular Posts, archives, and Post Tags. See how they're different lengths? Well, it doesn't matter because it's a smart widget that automatically moves everything below it. :)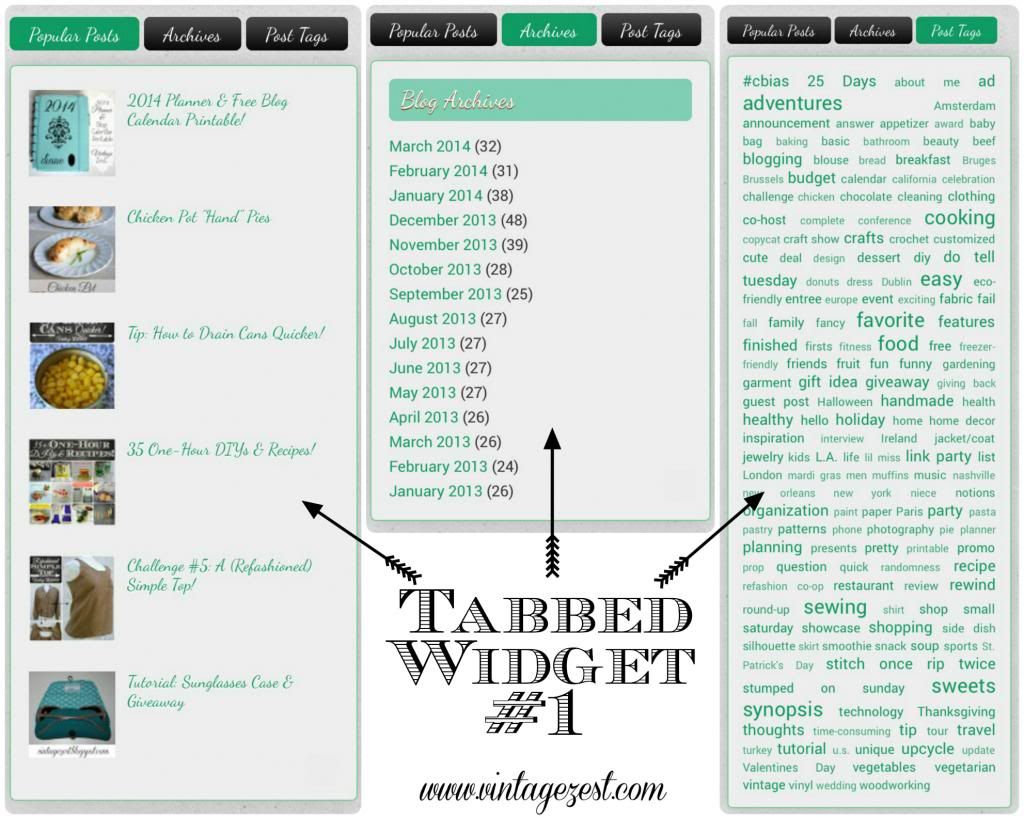 7 & 8. Tabbed Widgets #2 & 3
Widget #2 has to do with Stitch Once, Rip Twice. Oops! Looks like I have to update the Simple Top Challenge to our past challenges. :)
Widget #3 is for sponsors, affiliates, and my blog roll.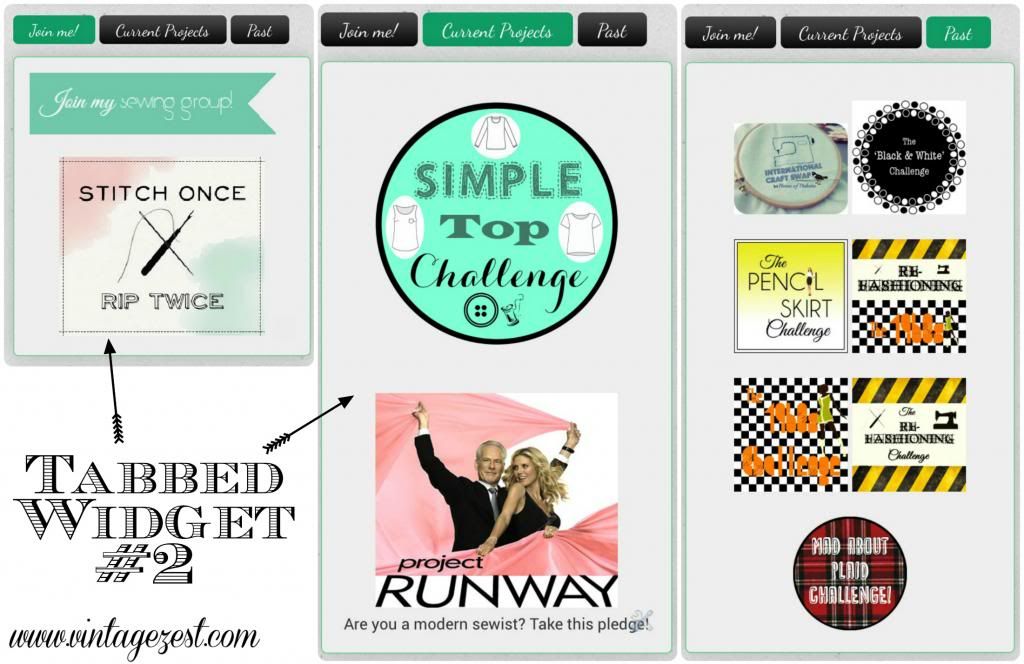 9. Widgets with posts grouped by Category!
I think this is a fun feature to have my posts grouped by category. I can easily change it around too, but for now I think these are the categories that I will leave up. :)
10. Social Media Widgets
At the footer, I a few interactive social media widgets so people can follow me at the touch of a button! It includes Pinterest, Twitter, and Google Plus, plus Instagram is on the sidebar near the bottom.
And that's it! I like that it is more organized, and hopefully newbies will think that Vintage Zest was this awesome the whole time I was blogging. :)
What do you think? Any changes that you like or dislike? Any other suggestions for me?