I love quizzes! Not those pop quizzes in history class, but those fun questionnaires where you add up your answers to find out about yourself. I take them all the time, just because. FYI, now I know that the Disney princess I am most like is
Princess Aurora
, I should live in
Cape Town
, and my superhero-self is
Spiderman
. :)
But going back to the story, I resolved to be healthier in 2014 and not just with my
food choices
. Since I'm a quiz lover, I just re-took the Fitness Calculator test that took the internet by storm a few months ago. Being the sharer that I am, I thought that you would all want to see how you stack up!
And after the results of my fitness age, you can read up on the (probably definitely too-long) story on all of the ups and downs of my journey to health, and what I am doing new for 2014.
To calculate your fitness age, here are just a few short questions, that you have to answer. You will need to know your current weight and waistline measurement, so grab those measurements first.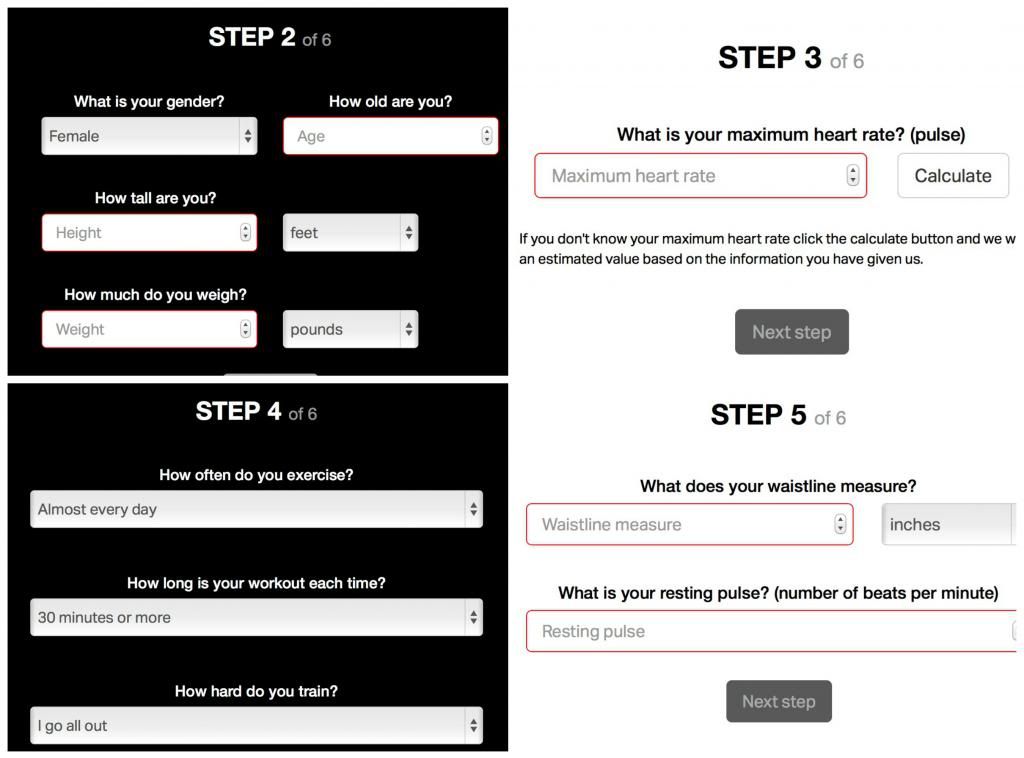 I plugged it all in, and this was my fitness age!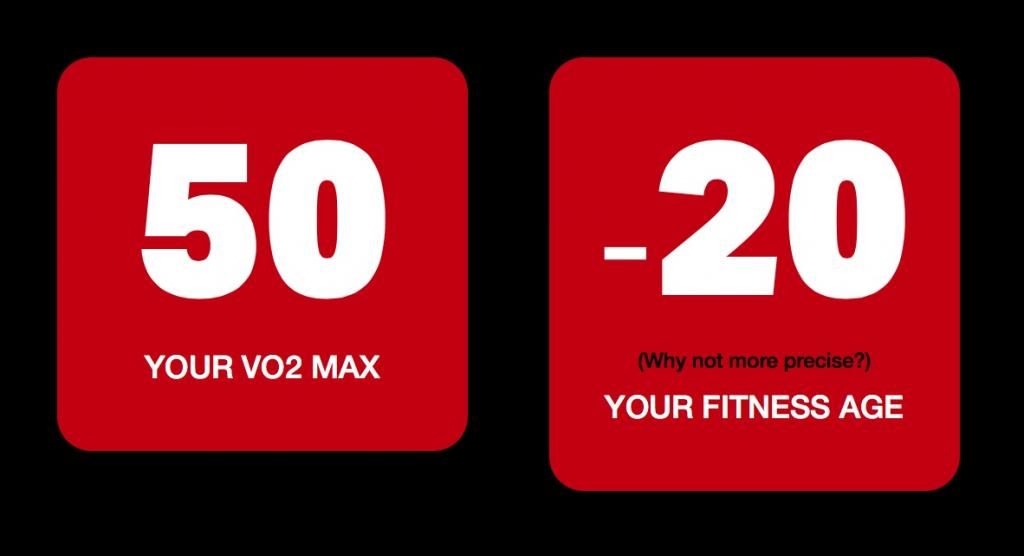 That's right, I'm less than 20! I'm a teenager, fitness-wise. :) Actually, if you read from my story below, you will see that I'm actually better off than I was as a teenager! But how do they calculate it and what does the VO2 max mean?
This page
explains it in detail, but very briefly:
VO2 max is the maximal oxygen uptake, which is the single best predictor of current and future cardiovascular health. Usually, measuring it involves running on a treadmill while breathing into a mask, but this calculator uses the data you provide to estimate it. The VO2 max involves several factors, including:
how well the lungs are breathing
how efficiently oxygen is transported into the blood
how well the heart is pumping blood to the working muscles
how well the blood vessels transport blood
how well the muscles receive and utilize oxygen
In the table you can see that a VO2 max of 50 (my number) is better than that of a typical 20 - 29 year-old woman. Yay!
And as you can see in the bottom table, highly active 50 - 59 year olds can have the same VO2 max as an inactive 20 - 29 year old. Exercise matters!!!
That translates pretty well into my long, long story. At first, I was hesitant about posting this, but after speaking to a woman at the gym this morning, I thought it would be a good idea to get it all out there.
As a little girl, I ate really poorly. I had all kinds of packaged foods and my sack lunches were no healthier than the cafeteria food. At home, I actually asked for vegetables. I couldn't get enough of my veggies, but I was still surrounded by junk food and ate it pretty often.
As for exercise, I liked to do things inside rather than run around and play. I was definitely more of a bookworm! In P.E, I played every sport and I pushed myself to run 2 miles under 20 minutes for our weekly runs. However, it was always that darn Presidential Fitness Test that made me feel out of shape! My flexibility was great, so that was not a problem. Sit-ups were somewhat tough towards the end of a minute, but not impossible. However, I could NOT do a pull-up to save my life!
I simply was not getting the fuel I needed to really be healthy.

In high school, I played varsity sports and in college I attended fitness classes like kickboxing, Tae Bo, step class, sculpt & tone, and yoga, so I was really great fitness-wise. Still, I did not feel "in shape," but that was definitely due to my food choices more than anything. Late night chili fries and milk shakes were not the smartest choices...
A few years later, I was out of school and away from the gym, so I was at my heaviest. I decided to completely change my nutrition, and I lost a bunch of weight. However, it was very restrictive in that I was constantly weighing, measuring, and analyzing my food, and turning down invitations to dine out left and right. Yes, I was thinner, but it was really time-consuming, boring, and isolating. I was actually smaller than I was in high school, but since giving up on exercising years before, I still felt out of shape.
Slowly, I decided to wean myself back into real life (without the constant food analyzing) and I gained back about 5 pounds. I accepted that as the price of making a more sensible lifestyle change, but I still wanted to add exercise to my routine eventually.
Soon after that, in preparation for a 2-week long trip to Europe, I decided that I needed to increase my fitness for the 12-hour long days of walking we planned. I bought an online deal to a nearby boot camp and worked out almost every day for three weeks. It changed my life. I almost threw up that first day, but I was hooked after I saw the changes. I went on my trip and felt recharged!
In the meantime, I had taken the focus off of my diet completely because all of those workouts left me HUNGRY! However, I only gained a couple of pounds, and it was okay because my lean muscle mass increased while my body fat decreased. All-in-all, I stayed the same while increasing that fitness.
In fact, a few months later while my guy was doing pull-ups for his own home workouts, he suggested that I try it out. I KNEW that I could not pull it off because when I was a kid, it was the one thing that I could not even get close to accomplishing.
I reached up, started bending my arms, and once I got to that pivotal point where I thought I would need to give up... I just kept going and going and going...until I actually had my chin above that bar.
My fitness was the best it had ever been, and I could even do pull-ups!
I'm no girly girl! Remember this post? I can lift HEAVY weights!
Well, everything was chugging along until about a year ago, I noticed a twinge in my knee. It ended up being patellar tendinitis that was so bad at times that I had a hard time walking up the stairs. I was sidelined from running, squatting, jumping, and all the other exercises that had been in my normal routine. Naturally, I gained a couple of pounds. I tried to keep the weight off with any exercises that I could do, but it was hard because I had taken all of the focus off of my nutrition. That was just after the summer of my food truck tastings, so I was used to fatty, salty, and sugary foods. Blech.
I reigned it back in AGAIN with good food choices, so I was okay with my 50% gym days, although I wished I could go all out at 100%.
Since then, I tried to steadily do more at the gym, and things improved. Since my focus shifted towards physical rehab for me knee, my food choices were on the backburner but still decent...until the
holidays hit
. I was busy with LOTS of work, family obligations, and even this blog stressed me out a bit for some reason. Sewing my coat for the
Mad About Plaid
challenge, I noticed that my measurements were slightly higher than the last garment I made. Blah! I started cooking less and less, and with all of the holiday parties my fridge was always stocked with unhealthy leftovers. Unhealthy food led to decreased energy, which led to missing the gym, which led to even less energy, and it was a downward spiral. Don't get me wrong, I was not a whale right now, but somehow an extra 5 pounds feels heavier when you are going downhill, fitness-wise. Add to that the fact that my gym was closed over the holidays, and I was seriously wondering if I should go back.
And then I remembered those pull-ups and my Fitness Test results. I tried both out again this week, expecting to be a failure at both, but I was still able to do my pull-ups and I am a lively teenager according to the calculator!
It was then that I realized that I can't give up, even if I am not where I once was.

And actually, I am in better shape than I was in my teen years, due to my rigorous workouts and definitely healthier overall food choices. So why get blue over a few setbacks?
For this year, my goal is not to have the perfect diet, or to go at 100% every day at the gym. Simply, I want to be able to keep one eye on making good food choices and the other on my exercise routine. It seems as though it has been it has been a juggling act trying to keep both balls in the air (along with everything else), and while I laser-focus hard on one, the other gets dropped. This year, I just want to keep up with them both, even if it isn't perfect or pretty. :)
If you got to the end of this, I am super impressed. Mostly, this was a way to get everything off of my chest all at once, and I have to say that I actually feel more free! Maybe it was a bit dramatic, considering that I am only about 15 pounds from where I would like to be, but anyone who has been weighed down (excuse the pun) by health and fitness issues knows how hard that can be.
Here's to keeping my eyes on the prize!