Hello again!
Some of you might have thought to yourself... what happened to
Stitch Once, Rip Twice
? Remember, my online sewing group with challenges? Well, it's still around!
Last time we spoke about our little group, I posted about our
Mad About Plaid Challenge
and then I shared with you the
plans
that I had to make a coat.
And then... a big fat nothing.
Or so you thought!
We had an awesome holiday swap! I matched up pairs of gals and they gifted lots of sewing goodies!
Next week, I promise to show off the completed projects from the last challenge, but first I wanted to share some of the great presents that our members sent and received in our first holiday swap!
ChiChi from
ChiChi Loves
gave Kristin from
Sew Classic
tons of vintage patterns, notions, and fabric. Read more about it
here
.
Kristin from
Sew Classic
gave ChiChi from
ChiChi Loves
a whole bunch of patterns, bright fabrics, and embellishments to add to her stash!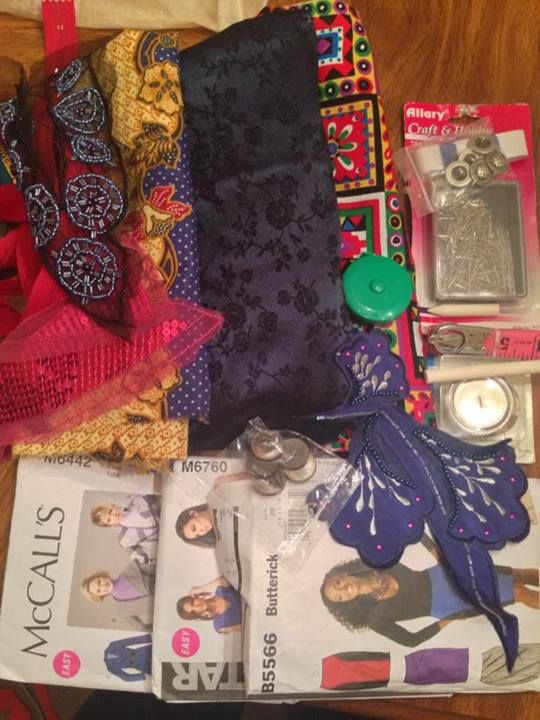 Kathy gave Cecilia some beautiful fabric, patterns, and lots of useful little notions!
Cecilia gave Kathy some awesome fabric that Kathy's daughter totally loved! She already decided what to make with it, and no doubt it will be awesome. :)
Victoria from
Very Blissful
gave Joanne some
really
cute fabrics plus some pins, binding and lace. Adorable!
Wouldn't these pretty packages be amazing to receive in the mail? I'm sure the fabric, notions, and patterns will be put to good use!
You might be wondering why I did not participate in the holiday swap. Well, I organized the swap and on the off-chance that there were an odd number of people, I would swoop in and save the day! Well, it didn't happen. :(
After seeing these pictures, I'm definitely going to count myself in!
Have you ever participated in a sewing swap?