About a month ago, I did a quick reorganization of my toiletry drawer when I something silly happened for someone so organized...I ran out of deodorant! I resorted to using my travel deodorant, but I knew that I had to do some major organizing of all of my toiletries to make sure I didn't run out of anything else. Here is how I did that!
First of all, you should know that I had a
huge
stash of bottles and lotions because I ended up accumulating them from three different places: my parents' house from before I moved out to Nashville, my stash from Nashville (which was in storage temporarily), and the new stuff I bought when I moved back to California. So basically, I had three times the stuff that any one person should have.
Add to that lotions and creams that I received as presents, the fact that I am switching to more natural beauty products, and I had a drawer filled to the brim with a bunch of items that I hadn't looked at in forever. Maybe it doesn't look entirely terrible, but I had empty packages in there, tons of free samples,
really
old pore strips from high school, a tower of hair brushes balancing on a hair dryer that I barely use, and so much more. It was time to get to work!
First, I cleared out the entire drawer and made sure to clean up all of the dust, hair, and dirt with my
DIY orange cleaner
.
Next, I reused the same IKEA cutlery trays from my
jewelry organization post
and stacked them end to end. They fit perfectly! Unfortunately, the lip on the bottom tray was a bit thick, so the top tray did not rest comfortably inside. However, there was an easy fix for that...
Snip off a but of the bottom tray! The plastic was easy to cut through, and since the trays are inexpensive, I didn't mind if I accidentally messed up. Part of me wanted to add some pretty paper or vinyl to the bottom of the trays, but I wanted to leave it clean for now. I can always add it later!
Next, it was time to do a bunch of organizing! I purged, recycled, and organized the remaining products into categories.
As with any of my organizing projects, I made sure to have the most useful items up front and the duplicate items or ones that I don't need to be as accessible in the back. Here is what I ended up with!
On the left side are the items I use every day in the front (lotions, deodorant, lip balm, cotton pads, etc.), with a a few lotions and sunscreen pads in the back.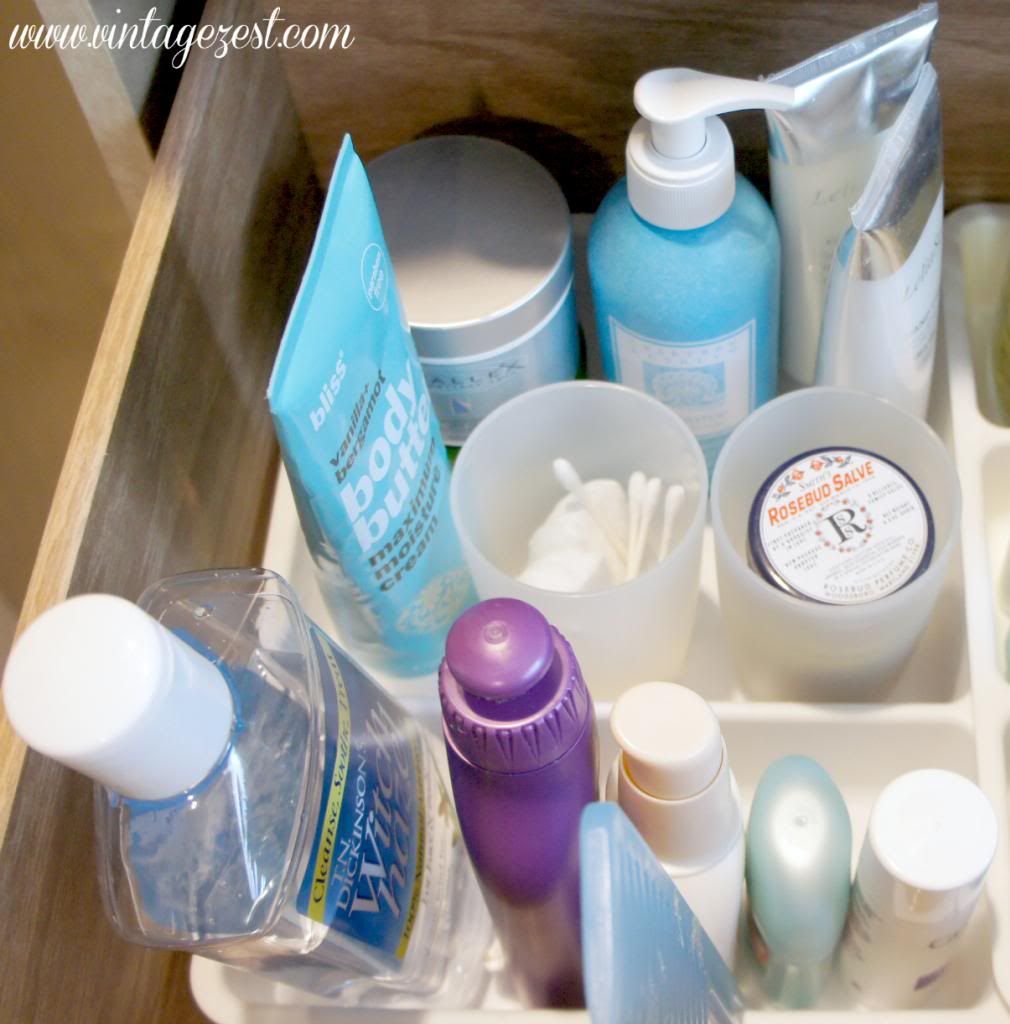 The middle section has three rows, with my hair dryer in front. The back row has duplicates of items, and the front two rows are items that I use either once a week, or as needed.
There's that Peppermint Moxxie lotion I was searching for!
The section on the right has lots of duplicates of mostly hair products. I have no idea why I have so many, but it's probably because I bought a couple whenever I
thought
I ran out. Also, now I have my brushes standing up, so I can get to each one easily. The items behind are just duplicates of other items, so I don't mind covering them up with the brushes.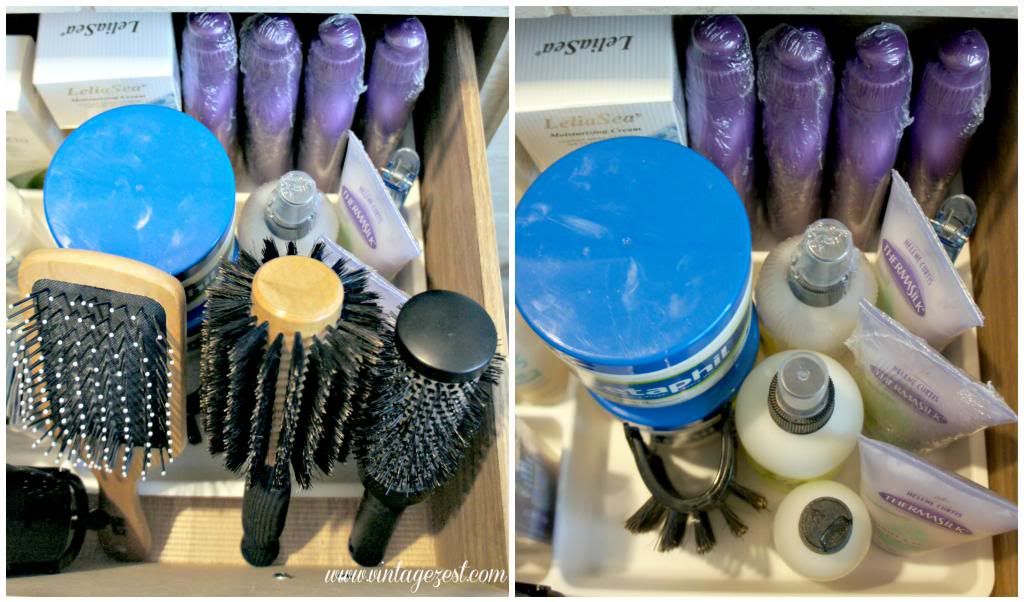 And that's it! Maybe not a HUGE transformation to everyone else, but now I can access items
much
easier and I know exactly what I have. No more buying hair products for a while, that's for sure! :)
Ahhhhh, much better!
Are you doing any spring cleaning projects around the house?