This sponsored post is brought to you by Plaid and Blueprint Social, but all opinions are 100% mine!
As you know by now, I just love to create! I work with just about everything, like fabric, yarn, vinyl, paper, and even wood! But I have a little confession for you... I am
scared
when it comes to painting. For real. When I was a younger and other kids had birthday parties at our local ceramic painting shop, I was completely nervous about "messing up" with my design. I would stick to straight lines or polkadots if I was feeling "adventurous." ;) However, lately I have been itching to try painting more, especially with the new house (yay!) and some woodworking projects I have in mind. Luckily, I found out about the new
Stencil1
line of stencils from Ed Roth, which are
perfect
for a newbie painter like me! Along with FolkArt Multi-Surface paints, I created a pretty Stenciled Nautical Beach Tote, perfect for spring and summer trips!
Before I start with the tutorial, let me clue you in on a few of the supplies I used. When you pick up your own Stencil1 stencils, they come in a variety of designs from floral, honeycomb, British-themed, scallops, and so much more! They are available at Jo-Ann Fabric & Craft stores and are perfect for walls, floors and furniture. I suspect there may be a stenciled wall in my future? :)
For my project, I used the FolkArt Multi-Surface paints, which are great for practically any surface, both indoor and outdoor! I mean, check out the fine print on the back... they are even dishwasher safe!
My set of stencils came with three designs: rope, an anchor, and a star. All of the stencils are made of a durable, reusable mylar, which is super easy to clean!
Also, I love that I was
finally
able to personalize the plain tote that I had been hanging on to from way back during the
SoCal Social
. Awesome!
Now, to the tutorial!
Supplies
Canvas tote bag
Stencil1 nautical stencil set
FolkArt Multi-Surface paints (your choice of colors) by Plaid Crafts
Masking tape
Optional: glue stick
Pounce brush
Optional: Protective plastic sheet or cardboard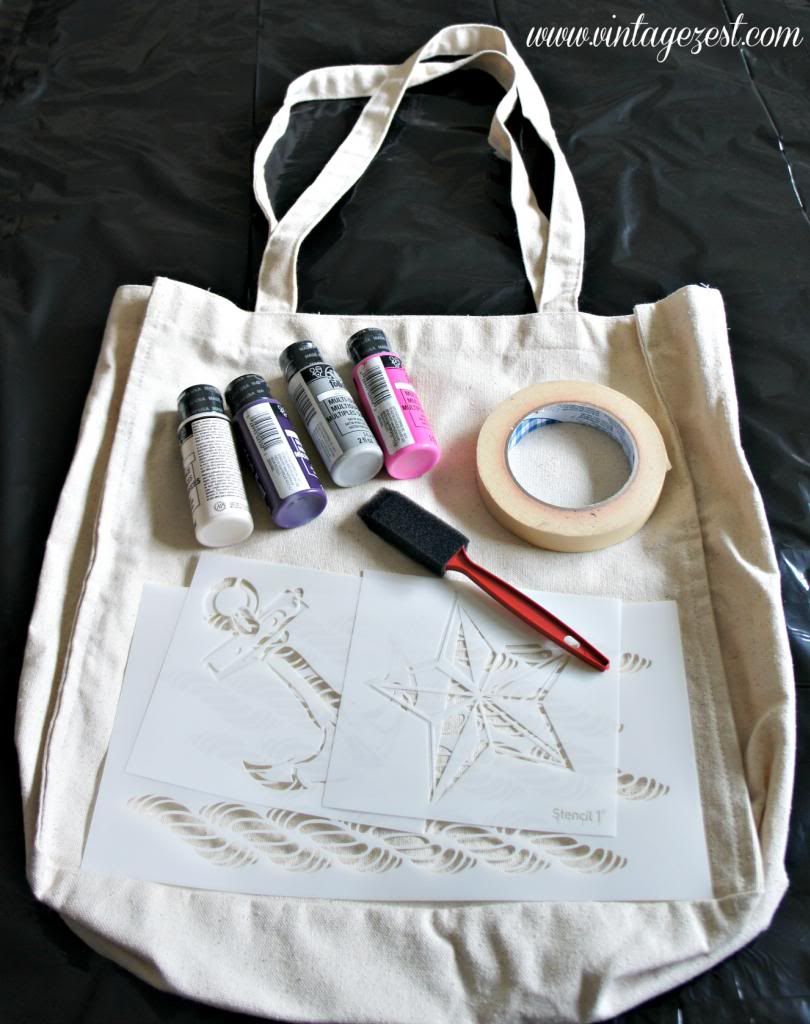 Directions
1. Position the stencils where you want them.
2. Secure with masking tape. I had to fold up the corner of the anchor stencil, but you can choose to paint them separately, if you wish.
3. Because the canvas was not completely flat, I used a glue stick to make sure it adhere well.
Note: Test the glue stick in an inconspicuous place to make sure it doesn't leave too much of a residue behind. My canvas tote was perfect!
4. Insert a protective layer to make sure the paint does not bleed through to the other side of the tote. I actually used the packaging that the stencils came in!
5. Use the pounce brush to fill in all of the areas of the stencil.
FYI, for the anchor, I used a combination of gray and purple. The rope on this side was a combination of the white and gray paints. On the other side, I just used gray for the rope and a combination of pink and gray for the star.
Ignore the bubbling up of the stencil, because I started to pull up the stencil before photographing it. Oops!
Also, you may decide to use just a few sections of the stencil, as I did on the second side. Whatever floats your boat! Ooh, a nautical reference. I'm on it!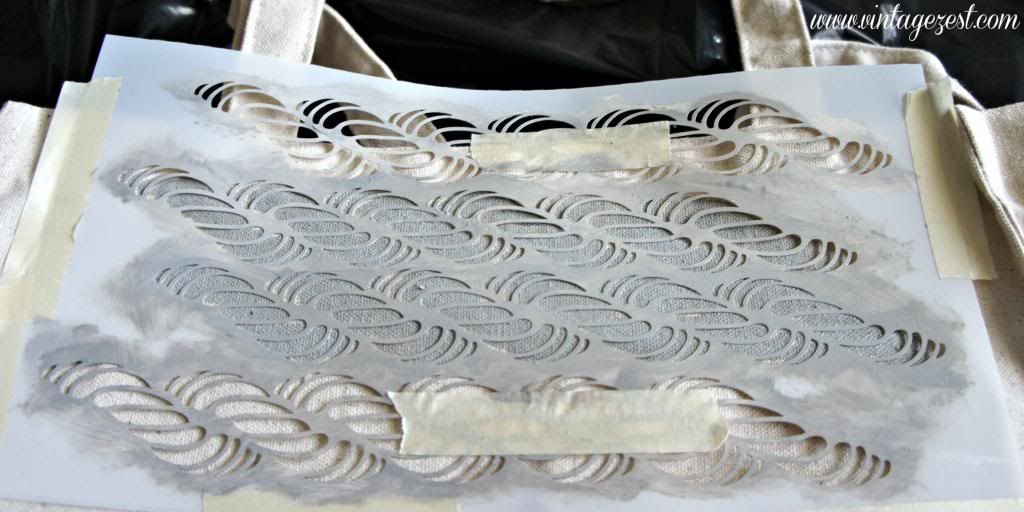 6. Let set for 1 hour, or until completely dry.
7. Then peel away the stencil, and you are done!
I
love
the rustic look of this nautical beach tote. All you have to do is stock it with your fave beach supplies and you're ready to go!
See! All of the look of a customized tote from someone who knows how to paint, just from this lil' newbie. Yay!
So easy right? If you want to connect with Plaid Crafts to see more of their project ideas and to get social, check out their
blog
,
Pinterest
,
Facebook
,
Twitter
,
YouTube
and
Instagram
!
How will you use Stencil1 stencils?