You might be thinking, "Really? Another breakfast post?" Honestly, I
love
the feeling of starting my day off right, and the only way to do that is with something healthy and delicious! This is coming from someone who used to regularly skip breakfast all through high school and college, but times change!
I chose to make this egg sandwich without any breakfast meats just to keep it a bit lighter, but it is still completely satisfying and will keep you nice and full until lunchtime. Right now, it is my favorite way to start the morning, even more than my other favorite breakfast posts!
Let's get to the recipe!
P.S. - If you want to see the previous Favorite Breakfast posts, check them out here!
Veggie Breakfast Sandwich
A
Vintage Zest
original
Ingredients
Whole wheat English muffin
(I only use half because I make my sandwiches open-faced to cut calories)
1 Egg
Nonstick spray
Salt and pepper, to taste
Laughing Cow spread, or any cheese of your choice
1/2 Roma tomato
1/8 Red onion
Optional: Green onion, for garnish
Note: This is just a suggestion of ingredients, but I find that these work really well together! In fact, one day I was out of tomatoes somehow, so I used avocado instead. Definitely still delicious! So basically, start experimenting with your favorite ingredients for your own customized sandwich. :)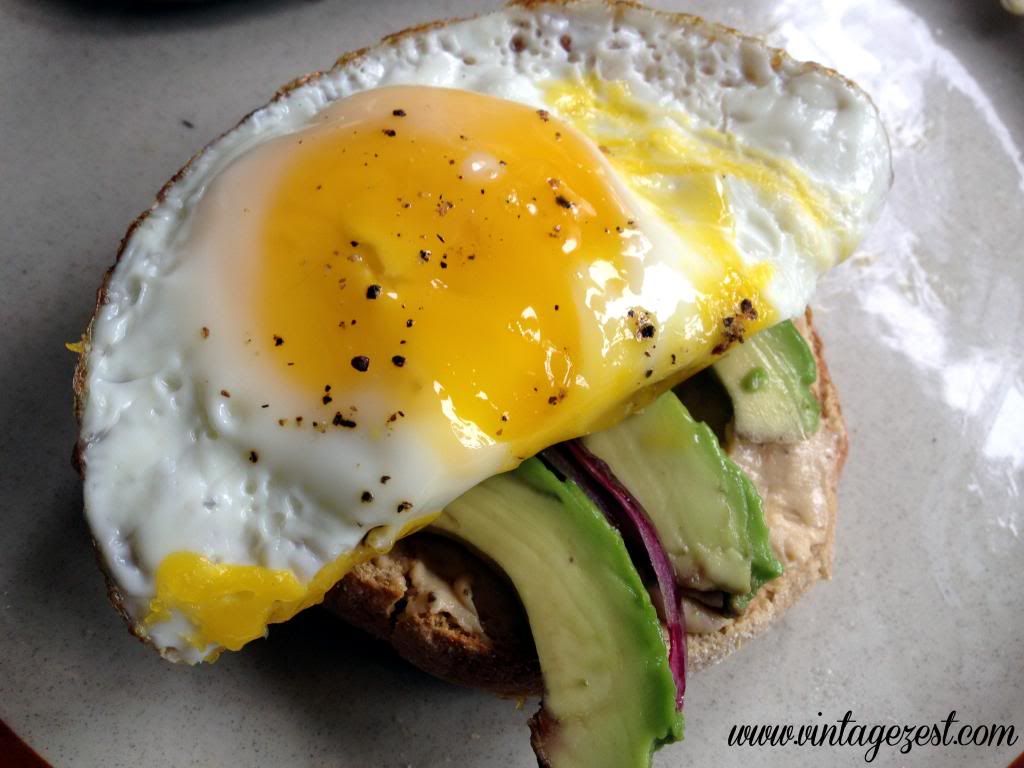 Directions
1. Toast your English muffin.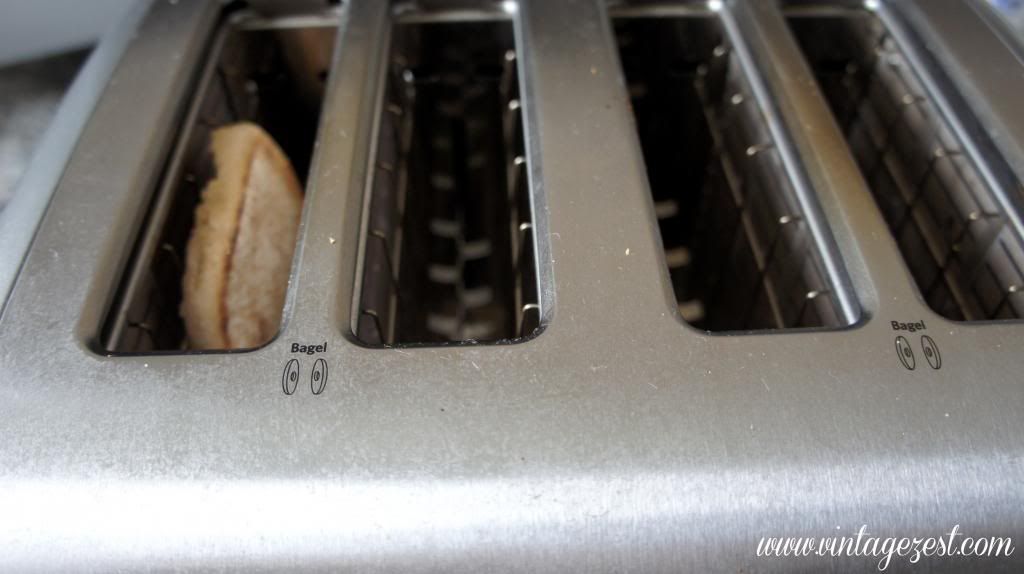 2. Cook egg to your liking in a pan prepared with nonstick spray, seasoning with salt and pepper.
Personally, I like frying it about 3/4 of the way, and then poking the yolk so it cooks just a bit. My guy likes his scrambled. To each his own!
3. While the egg cooks and the English muffin toasts, I slice my tomato into thick rounds and the red onion into small slivers.
4. As an added bit of flavor, I cook the onions just a bit so they get just a bit charred on the edges.
5. Next, spread the cheese over the toasted English muffin.
I used The Laughing Cow Mozzarella Sun-dried Tomato & Basil. Yum!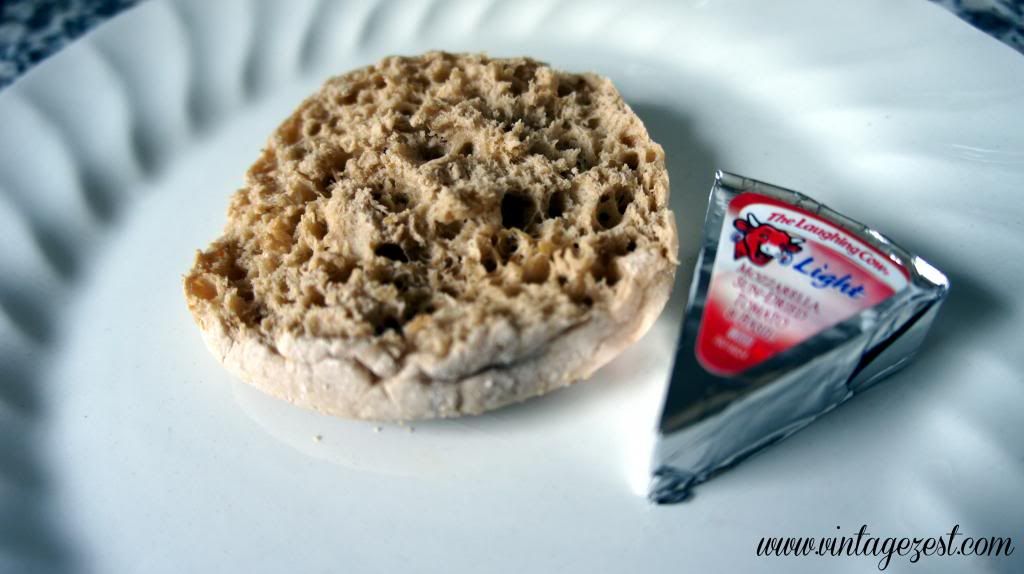 6. Now let's stack our sandwich! On top of the English muffin with cheese, I smash the grilled red onions, tomato slices, a few green onions, the fried egg, and then more green onions. If you are using both halves of the English muffin, top with that!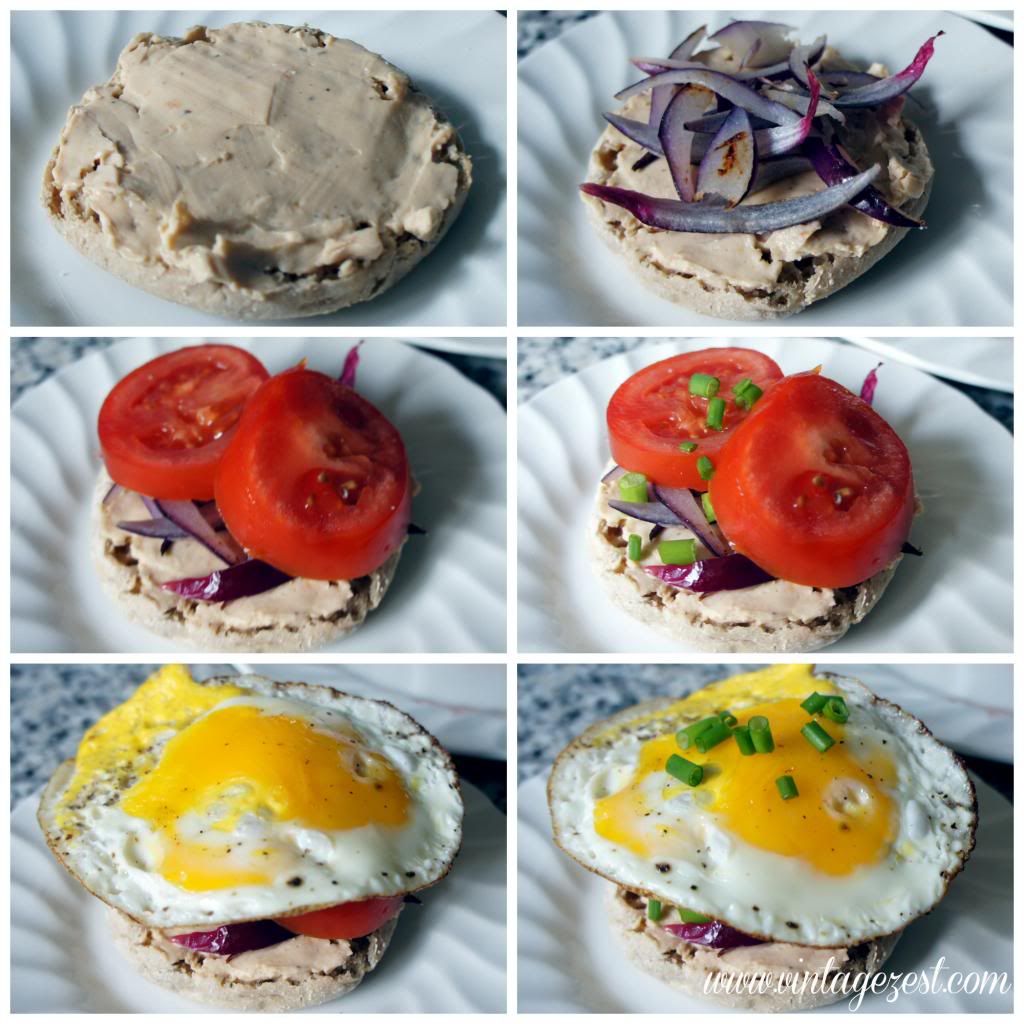 Voila! All done, and if you are efficient like me, it will come together
really
quickly! I usually cut my onions beforehand, so I don't need to cry every morning.
And for a change, sometimes I throw some avocado slices instead of tomato, like I showed in the picture above. Most of the time I do not experiment much because I love the exact recipe that I showed you above, but I know this would be great with different ingredients.
What ingredient would put in your breakfast sandwich?