Today, I am sharing one of my new favorite recipes! I love this recipe for a couple of reasons: it is a creamy, delicious spread that is wonderful on sandwiches, as a dip for flatbread or veggies, or even over pasta or chicken! Although it is a tasty addition to nearly every dish and tastes decadent, it is completely healthy, made with only vegetables. Not only is it delicious and nutritious, it is super easy and requires very little effort. That's a winning recipe in my book!
Oh, and for those of you who
think
that you dislike eggplant (
like my man
), this recipe will convert you.
After the recipe, you will want to see a couple of serving suggestions for this delicious spread, and a couple of modifications that you can try out. Yum!
The inspiration for this recipe came from a trip to one of my favorite stores:
Trader Joe's
! I love trying out healthy spreads, and as much as I love hummus, I was in the mood for something a bit different.
Also, I had a
few eggplants
from my huge $2 box of produce, and I already used one for my
Easy Eggplant Parmesan
recipe. So I was determined to recreate this delicious spread ASAP!
Red Pepper Spread with Roasted Eggplant & Garlic
A
Vintage Zest
original
Ingredients
2 medium eggplants, diced into 2-inch cubes
1 head garlic
Olive oil
Salt, to taste
Pepper, to taste
12 oz. jar of roasted red peppers
Optional ingredients (listed below)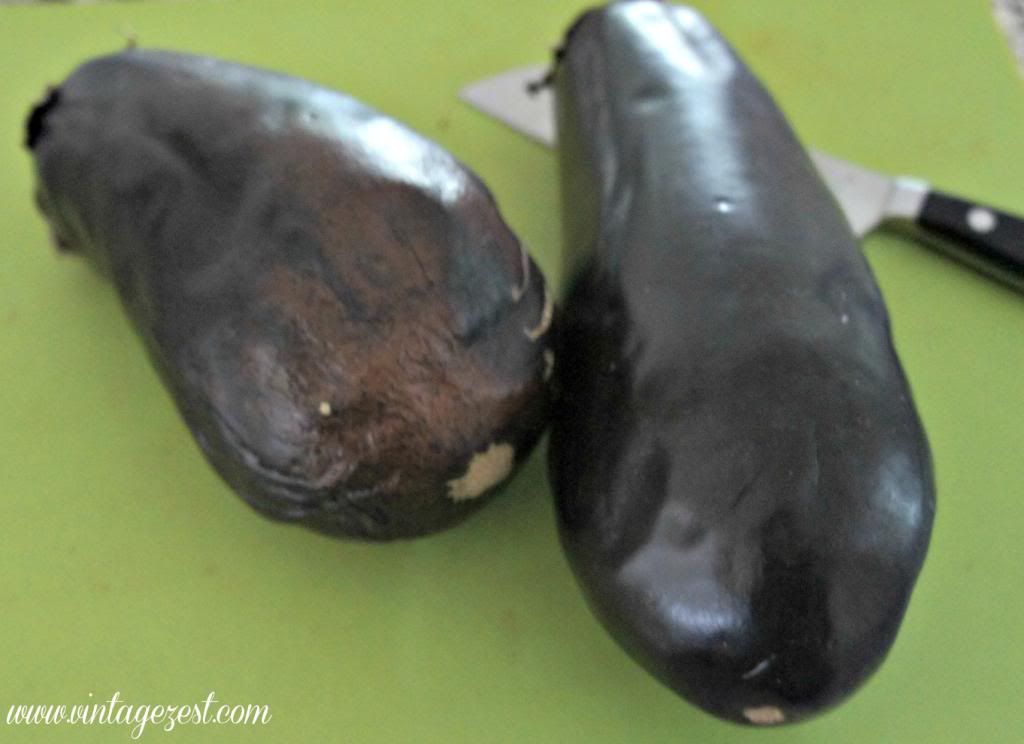 Directions
1. Preheat oven to 350.
2. Line a baking sheet with aluminum foil and top with parchment paper. Spray very well with nonstick spray to prevent sticking.
3. Toss eggplant cubes with olive oil, and a bit of salt and pepper. Spread the cubes into a single layer.
4. Slice the top off the head of garlic to expose the cloves. Drizzle with olive oil and seal tightly in a bundle of aluminum foil.
5. Roast the eggplant cubes and garlic for 1 to 1 1/2 hours until the eggplant caramelizes.
6. Unwrap the head of garlic and let everything cool.
7. Once cool, place the eggplant and garlic into a food processor and pulse. I leave it a bit chunky because I like it that way, but you can puree it if you wish.
8. Add the roasted red peppers and continue to process. Scrape down the sides, if necessary.
9. Season to taste with additional salt and pepper if necessary. Optionally, check out the other ingredients I suggest below!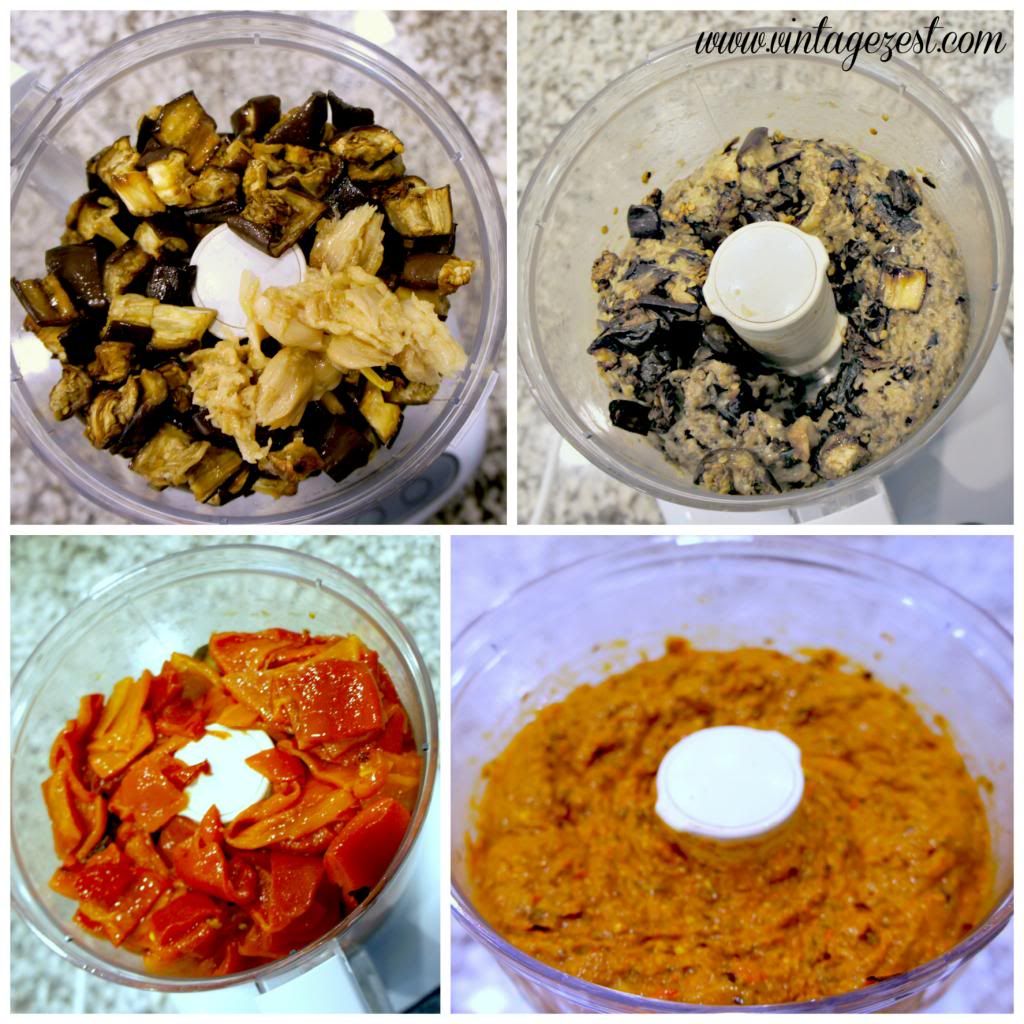 And that's it!
Here are a few options to customize your spread:
Sun-dried tomatoes
Crushed red pepper, chipotle peppers, or jalapeño for a bit of kick
Fresh herbs: basil, oregano, cilantro, etc.
Pesto
Use two jars of roasted red peppers for a brighter red pepper taste
Process with more olive oil for a looser spread
Add goat cheese, feta, Greek yogurt, or tzatziki for a creamier dip
Add more veggies like spinach, kale, or avocado, or even black beans!
Try out a variety of spices! Cumin, curry, paprika, chili powder, etc.
And here are a few serving suggestions that I enjoy:
Pita or Sangak bread
Fresh veggies: bell peppers, cucumber spears or discs, celery, cauliflower, etc.
As a sandwich spread (check it out below on the Chicken Parmesan burger)
Over fresh pasta
Accompanying grilled chicken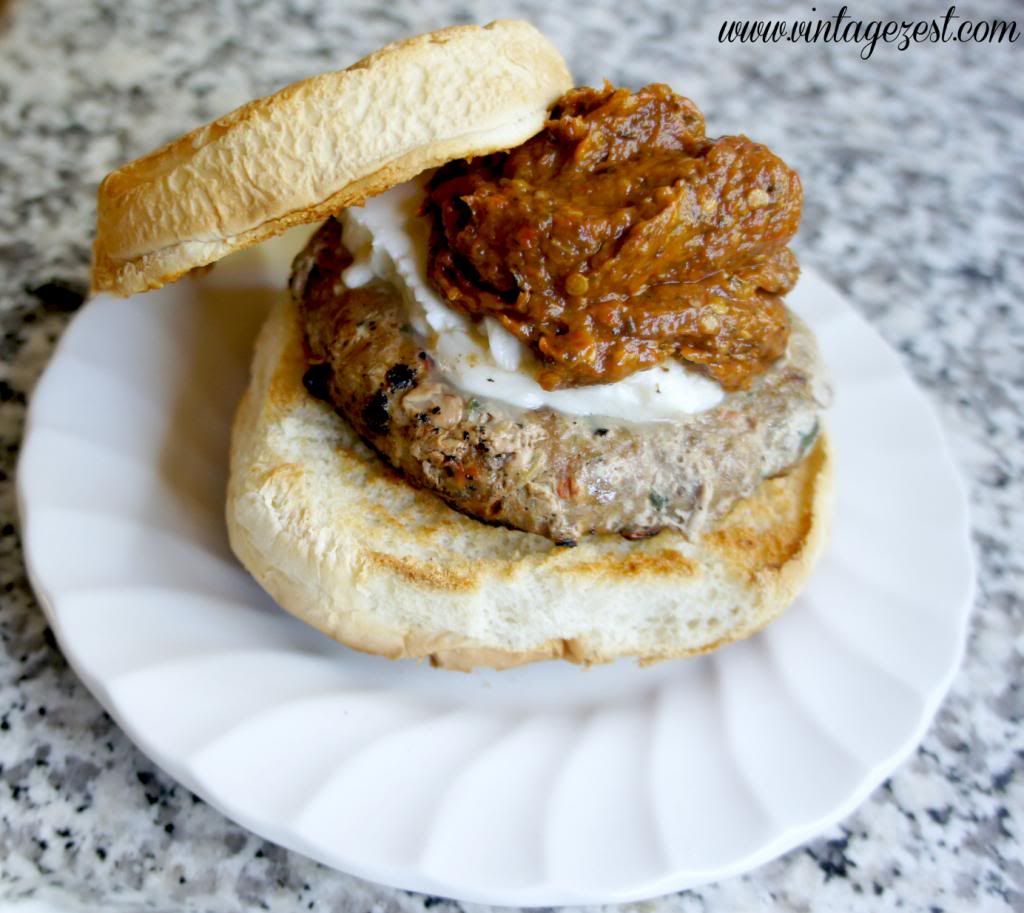 Yep, it's pretty much a wonder spread, and I'm definitely looking out for another bargain box of eggplant next time I head to the store. :)
Delicious, fast, easy, and healthy. What more could you ask for?
How would customize your spread?