I have been on a mission to pay attention to my eating habits and continue my gym habit of six days per week, and it has been going strong one month later!
Today, I am sharing my version of a green smoothie that I first saw on Aida Mollenkamp's blog
a couple of months ago
and was intrigued but didn't immediately try it. However, when I saw her sipping on it in
this post
, I was on a mission to try it!
After a few minor tweaks, I am totally hooked on my new morning routine
and
my guy is actually a huge fan of the smoothies too!
So you might want to know what this tastes like. It is actually really, really delicious! Sometimes, I have a hard time finding that happy medium between a wheatgrass shot and a milkshake, but this is just right for me!
I will include a few changes that you can try to increase the greens, the sweetness, or the fullness factor, as well as a few ideas to decrease the calories, if that is what you focus on.
Easy Green Smoothie
Slightly Adapted from Aida Mollenkamp
Ingredients
1 cup loosely packed kale
1 cup unsweetened almond milk
1 cup fruit, fresh or frozen (see below)
1/2 ripe banana, fresh or frozen
2 Tbsp. unsweetened coconut
Optional
: up to 1 cup water
Optional
: Up to 2 Tbsp. Flaxseed meal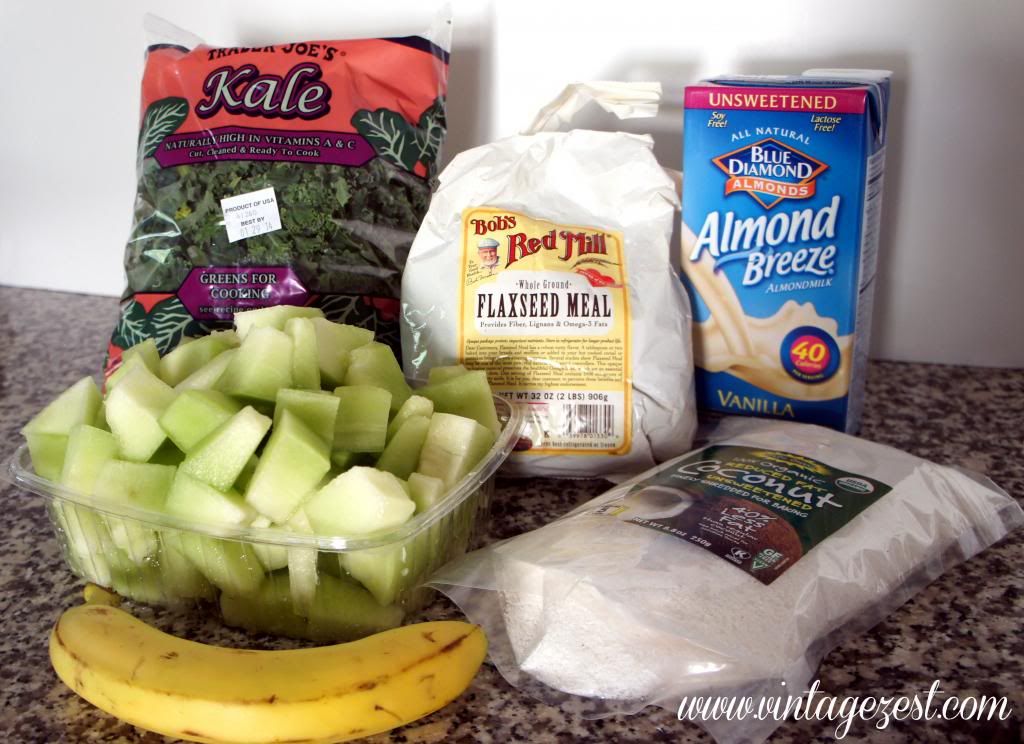 Note:
For the fresh fruit, you can use just about anything! I like honeydew or cantaloupe right now, but strawberries in season would be amazing.
For frozen fruit, I have used peaches, strawberries, blueberries, and mixed berries. The only one I dislike is the mixed berries because the raspberries and blackberries are very seedy.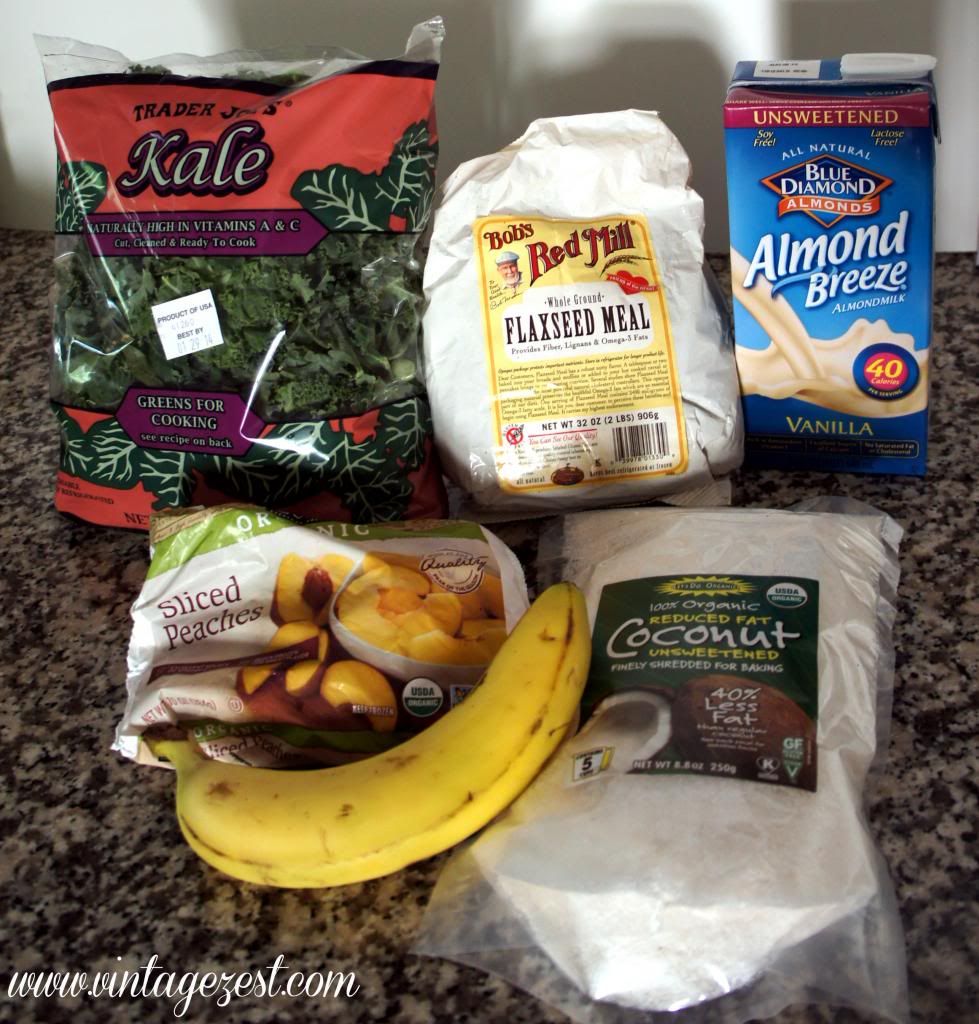 Directions
If you are using an expensive blender, go ahead and blend everything up!
If you have an inexpensive blender like me, make sure to puree the kale first, like I mentioned in the post below!
Now, here are a few tweaks that you can make if it is not exactly to your liking:
If it is too thick, add water.
If not sweet enough, add more banana
If not sweet AND too thick, consider adding a few slices of a sweet orange or grapes plus some water.
If too sweet, go ahead and add some more kale or add less banana.
If too creamy, substitute some of the almond milk for more water.
If you are trying to cut calories, consider some of these swaps:
Replace some of the banana with a lower calorie fruit (berries, melon, etc.)
Add less almond milk and more water.
Either eliminate or cut the shredded coconut down.
Lastly, all you have to do is drink up!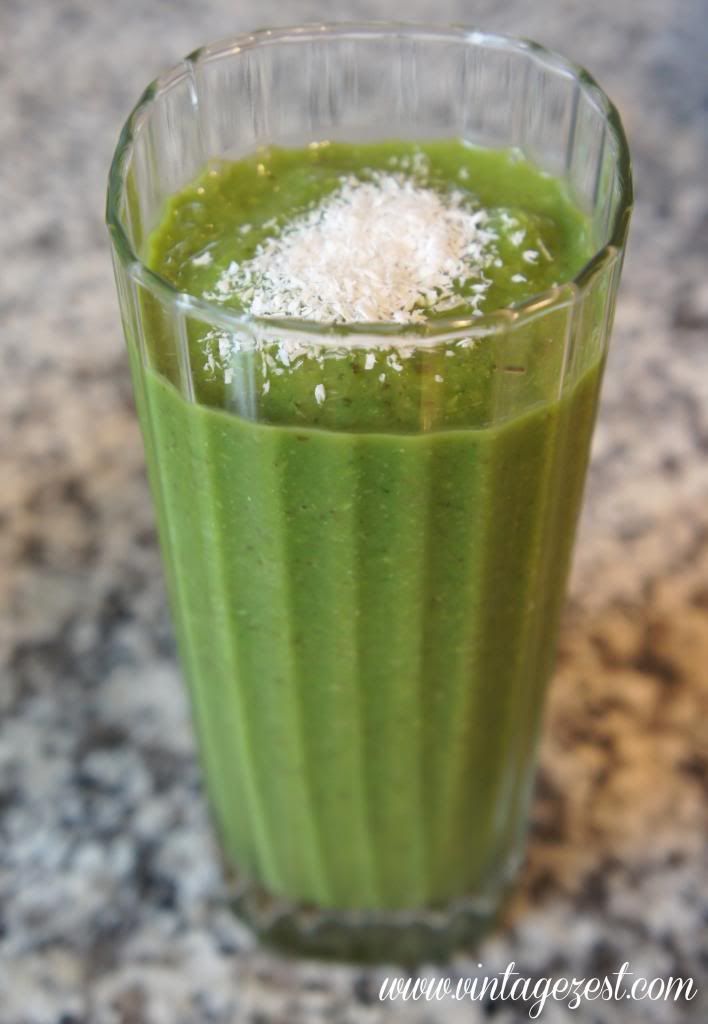 So, I'm enjoying this just about every day, especially since I went shopping for all of my
super cheap produce
! Right now it is kale and cantaloupe, but next week I'm going to do spinach and frozen blueberries. Yum!
What is your favorite green smoothie recipe? I'd love to try it out!