Happy Saturday! Today I have another fabulous jewelry feature today for
Shop Small Saturday Showcase
, and it is an awesome one. I first met Christine of
See Kim
at
Makers Mart
before the holiday season, and I just loved everything about her jewelry. Not to mention, her table was so artfully displayed that you know she has an attention to detail!
So, let's get to the interview and make sure to stay tuned for a promo that Christine is giving to you guys, my readers. Awesome!
********************
Tell me a little bit about yourself!
My name is Christine Kim and I am the designer behind See Kim. I am 21 years old and I have a passion for anything crafting. I knew I loved to create things but never thought that it could lead to a real job after high school. But after some research I decided to go to FIDM/Fashion Institute of Design & Merchandising. I studied Merchandise Product Development and graduated with an A.A. in 2012. My major allowed me to study all aspects of development from business to technical design. It really helped me to grasp what it takes to create not only garments but also anything man-made. Currently, I am going back to school to transfer to study Jewelry Design and Metal Smithing.
Where did the name of your store come from?
My boyfriend and I were just tossing out ideas of how to cleverly use my name. And unfortunately CK or better known as Calvin Klein was already taken. So it was a lot of jotting down different words that I felt described myself somehow. And finally, See Kim from C in my name came about and I knew I had to use my last name because I am proud to be Korean.
Why did you start making goods for See Kim?
Deciding to make jewelry was a choice that was influenced by many things. Because I liked making things, I kind of just realized that jewelry was something that I could make and use. I also couldn't really find anything I liked, or that was not just generic or "trendy" in stores, so I decided to play around with jewelry. It first started with (of course) friendship bracelets and the more I researched I found myself digging into a rabbit hole of amazing artists that sparked an interest for me: designers such as The 2 Bandits, Demimonde, Brook & Lyn, and the list goes on. It also helped that about a year ago I was working at my first full-time job at Closet Signature and was constantly pushed and supported by a great creative group. And soon I began taking weekly trips down to the jewelry district in LA and hitting the local bead shops, and going on Etsy and purchasing beads, chains, etc that caught my eye.
What is your favorite item?
My favorite item right now, and it pretty much has been since the very beginning, is the Turquoise Spike Necklace. I love the architectural shape made by the spikes and with the gold combination it creates a elegant yet everyday piece.
What is your most popular item?
My most popular item has been the Crescent Stone Pendant Necklace.
Where do you get the inspiration for your work?
I find inspiration for my jewelry everywhere I go. I especially like people watching and seeing what style or how people style their accessories. I am constantly researching on independent brands, fashion blogs, style sites, Pinterest, and Etsy. I also look at Instagram which is an amazing tool for me because I get to see what is going on with jewelry designers from all around the world in seconds.
Another outlet for inspiration is art because art is able to capture a certain mood with its colors, composition and overall design which is I strive for in my designs.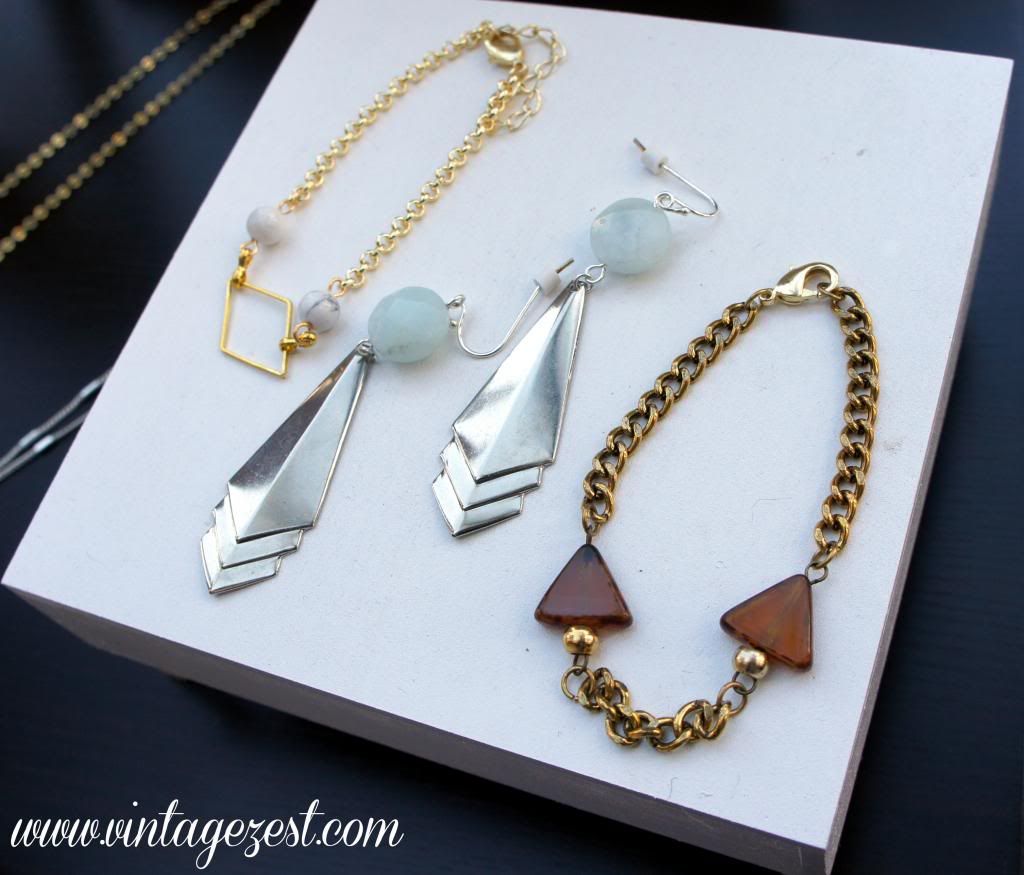 What makes your store unique?
I find that what makes my store unique is that because I'm constantly trying new things, and I put those new things out so often, people who buy my jewelry always get to see exactly what I'm thinking about and trying pretty much right away. I also spend a lot of time to source unique materials, because oftentimes, specifically with trendy jewelry, you see a lot of people using the same materials and components being used by everyone else, so everything starts to look the same.
What is the toughest part about making your goods/your artistic process?
The toughest part about making jewelry is not having the training and education, which I also see as fun challenge. But thankfully, because I have the internet and local bead stores I can easily find tutorials and take classes from local bead shops. Everything is a learning process for me because it is just myself, with a lot of help from my (very patient!) boyfriend who is super awesome and totally the coolest and totally didn't write this part. I'm also very grateful for local shop owners and local designers that prove that anything can be done if you work hard which is why I love Long Beach so much because it has such a strong local community and because so many of the boutiques I get to work with are owned by such strong young women.
Do you take custom orders?
I do take custom orders like changing lengths and/or creating custom pieces. I'm always open to other people's suggestions to make a piece better suited for their style.
Where can I see more of your work and buy a gift?
Etsy:
https://www.etsy.com/shop/SeeKim
Instagram:
seekim_
Anything else that you'd like us to know?
I'm also excited to have launched my first lookbook. It was a lot of fun to gather with other creative, and being able to take on other roles like coordinator, stylist, and graphic designer. Besides the lookbook, I am hoping to collaborate with other artists and create more beautiful jewelry! Stay tuned for bigger and better things.
I love so, so many of these pretty pieces! Just a perfect combination of feminine and funky, right? Okay, so now that you have seen all of these gorgeous baubles, check out the promo that Christine is gifting to you! She is giving 15% off to my readers for any purchases made! Just enter the code SEEKIM15 until 2/28.
Awesome, right? That means that you can buy even more, so...