This week was a blur and with so much work to be done, I saved up a few errands for the weekend. But I snuck a couple of fun ones into the mix and with a bunch of restaurants to try, it was a really fun week!
Precap
(jump to):
Friday
Once again, I had my woodworking class and I finished up my second project ever! I do promise to share the final projects with you, but I want to make sure I have them stained, painted, and sealed before I take the pictures...and I'm honestly a bit nervous to finish them up! Soon though, soon...
I visited
Amor Y Tacos
again (remember the
first time
?) and it was soooo good! Nothing could beat the Amor Chile Relleno Burger, but I'm going to visit again soon... you know for research purposes! Check out the whole meal, including some scrumptious tacos on
The Episodic Eater
.
Saturday
We had a bunch of errands to do, but first we met up with my mom and sister for a quick lunch at cha2o, including this Veggie Hot Pot. Check it all out
here
!
One of my fun errands was getting to shop for a wallet! My current pink one was huge and about 10 years old. I did love the amount of storage and the fact that it was easy to pick out of a dark purse. I received the Tory Burch one below for
Christmas
, but it was much too small for all of my wallet contents. I would have needed a second wallet! I was in serious angst about returning a gift, but I just knew it would sit around collecting dust. :(
I did some research and found out that it only came in this size, but I could exchange it and see if there was something else that I could use. Fun!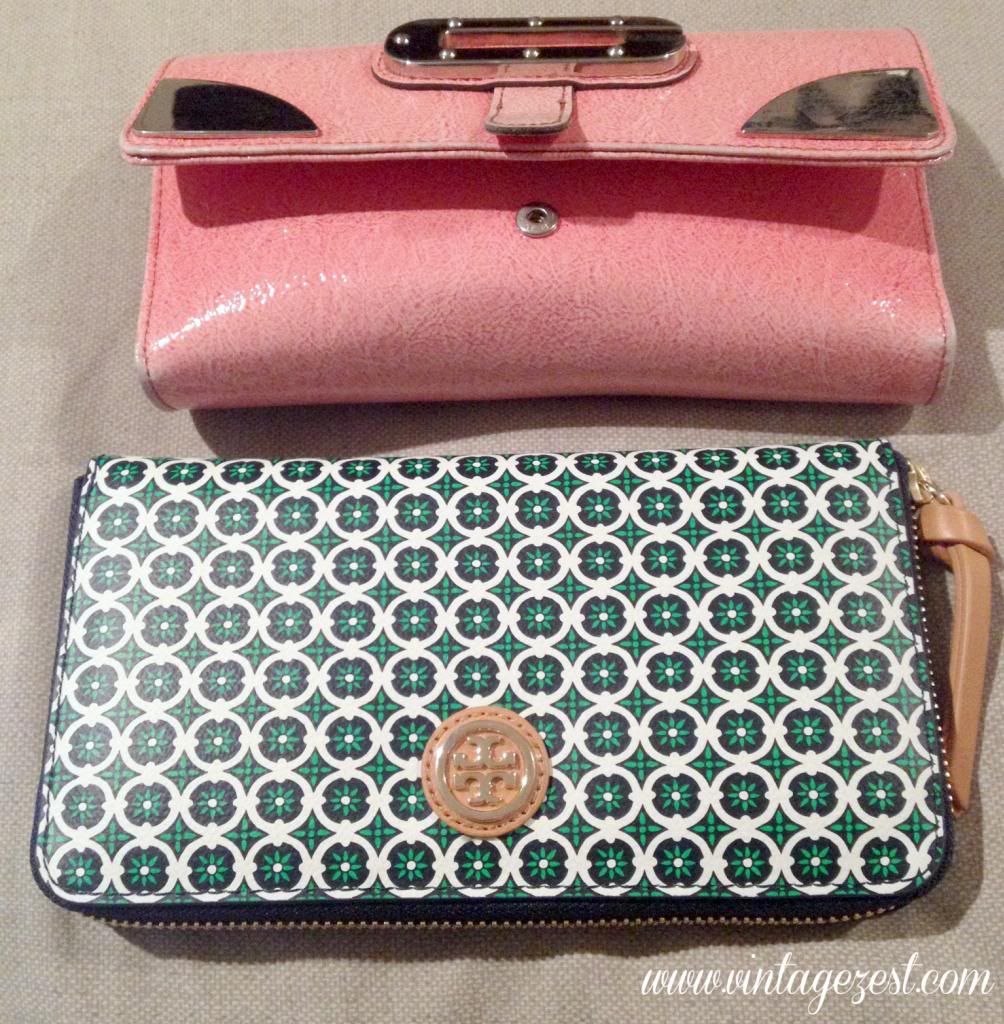 Anyways, we headed to the store and I just intended to get credit for a future shopping trip, expecting that I would not find something that worked for me. And boy was I wrong! I found this beautiful wallet that was just slightly larger. I have since removed all of the plastic and protective wrapping. :)
I love this pop of color inside and it is large enough to hold everything minus a few coupons. Perfect! Of course, I spent some time organizing my wallet, which led to organizing my entire purse. So yes, it was a productive Saturday!
P.S. - I noticed that this wallet is not available at Tory Burch's website, but here is the info for anyone wanting to track it down. It is called the Robinson Mini Zip Continental Wallet in the color New Ivory/Corallo. I found a
similar sized wallet
, the
chain wallet
in the same line which doubles a tiny purse, and the
exact wallet
at Nordstrom, although I paid less at the store. Actually, I ended up getting $11 back in credit because the original wallet was a bit more. Yay!
In the morning, I had the chance to roast a bunch of squash! Two butternut squash, a spaghetti squash, and a mystery pumpkin that my aunt gave me. :) Yummy yum yum!
Then we spent some time with friends at a tamale making party! No pictures, but we did have a good time. Not too good though because Monday was the next day!
Well, it seems like this was an overall productive week with lots of errands, cooking, eating, and planning for the house/wedding. Whew! It certainly seems like spring has sprung!
Have things picked up around your home, now that the weather is better?
This post contains affiliate links, meaning that if you make a purchase using one of the links, a small commission will go to support Vintage Zest. I will only recommend sites with products that I think you will love and enjoy!