This week, I want to feature one of my favorite shops so far! I first met Jeric from
Montrose Leather Works
at
Patchwork Santa Ana
and then at
Unique L.A.
(hence the multiple pictures below). The clean, classic designs made with quality materials are just beautiful in person and sure to be wonderful gifts! And if you want something a bit different, you can ask for a custom piece from the man himself!
Not only do you have the inside scoop on why and how
Montrose Leather Works
got started, Jeric is offering
two
of his beautiful creations to my readers! Check out the interview and see all of the wonderful leather goods that you will want to add your wishlist and then stick around to enter the giveaway at the end of the post!
********************
Tell me a little bit about yourself!
Hi! My name is Jeric. I've got a background mainly in Graphic Design and Fine Art. I started out doing leather work at about 2009. I'm based out of Montrose, CA; Just north of Glendale and right below Angeles Crest. I've been teaching myself and experimenting with ideas. I started out with simple kits and how-to's, then slowly started creating my own personal designs. Soon after I had gotten requests from friends and family for custom pieces. My first outing was a trunk show in Silverlake, CA at shop called Reform School with Scout Ties and Metal Doily Press. And, then I started doing shows like Patchwork in Long Beach and UniqueLA.
Where did the name of your store come from?
It took a while for me to come up with a name. I went through several for a few months. Then realized: "Why not use MONTROSE???". I hesitated for a little bit. But, I felt it really worked well for who I was.
Why did you start making goods for Montrose Leather Works?
Well, there's a couple of reasons I suppose… one reason is that I got curious about leather book binding. I picked up a simple kit. That quickly turned into a hobby. And, now it's turning into something a little bit more.
The other reason is because we like to camp and hike a lot. And, a lot of the time we just don't have comfortable practical gear and/or accessories that suit the everyday and the every adventure. When we got back from our 2009 trip to Montana I started coming up with an idea for a simple and practical card wallet. Something that I could carry on and off the trails. I still make and offer these pieces today.
What is your favorite item?
All of them. =]
Joking… kind of. It's really difficult for me to just pick one. Just about every piece I make has it's own story or influence. One of the first pieces is the iPhone Wallet. It was a design for my then girlfriend, my now fiance. Something like a carry all and grab-n-go for her. Another piece, the iPad Case, was actually a custom for someone. These turned into my first real shop items. I really didn't know that they'd take off as well as they have. I still make them today. And, people still ask for them today.
I will let you in on a little secret: I do have something that's just been completed that I'm REALLY excited about. And, I'll be adding this into the arsenal this year.
What is your most popular item?
I think that my Key Lanyards get a really great response. The Long Key Lanyard was designed first and has done well the past couple of years. The Small Key Lanyard does really great as well. The Small Key Lanyard has a really nice size and practical for both dudes and ladies. =]
Where do you get the inspiration for your work?
I'm really fortunate to have so many creative people around me. When I first started off I was associating with people like Scout Ties, Metal Doily Press, Elan Klein Photography. Since then I've collaborated with others and met so many creatives, like ConcreteGeometric. Another source of inspiration is from my own lifestyle. I really do try to blend in the everyday grind with the random detours out in the outdoors. I also like to try to keep things simple and clean as much as possible.
What makes your store unique?
It's ME! =] Just kidding. From a creative/design point of view I'd say that I'm really trying my best to create pieces that are functional. I also try to keep the designs classic. Something that will outlast, and flow, with a trend.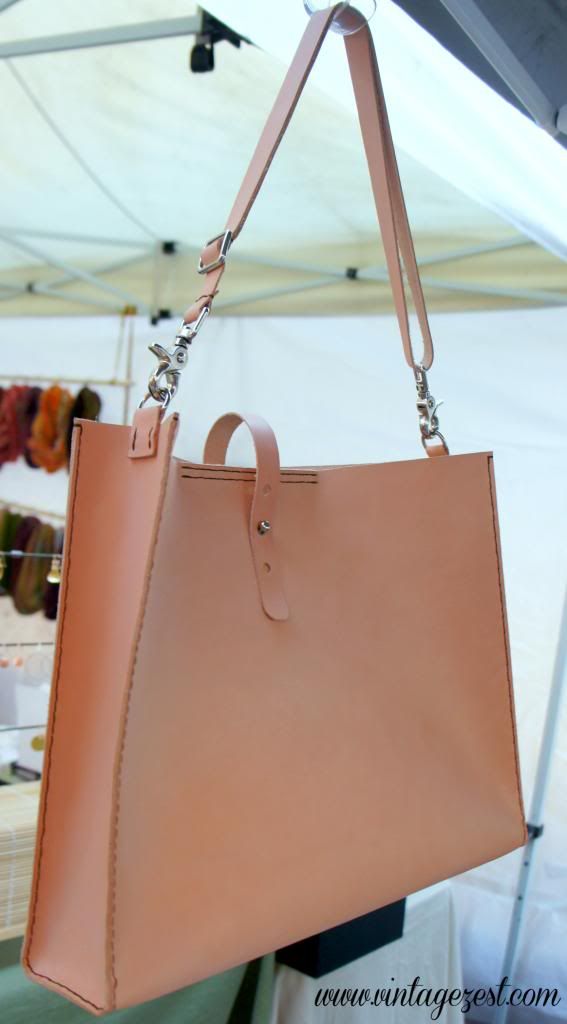 What is the toughest part about making your goods/your artistic process?
One of the most challenging tasks is to not get too influenced with trends. It's good to know what's out there and take what I can as inspiration. And, it's so easy to get distracted with outside influences. I don't want to be JUST a trend.
Do you take custom orders?
Yes. I've done a range of things. Stuff like variations on what I have online to things that are additions or accessories to other designers' products. Like purse straps. Or, knife holsters.
Depending on what the order might be I normally take a small project starting fee and then charge the remaining amount upon completion. Again, this really varies on the project. Collaborations with other vendors/designers are a completely different process. They can sometimes request much more than 1 item. And, I have done, in the past, hundreds of items for one client.
The time it takes to complete an order again depends on the project. If it's a one item order, I try to get it done within 2-3 weeks.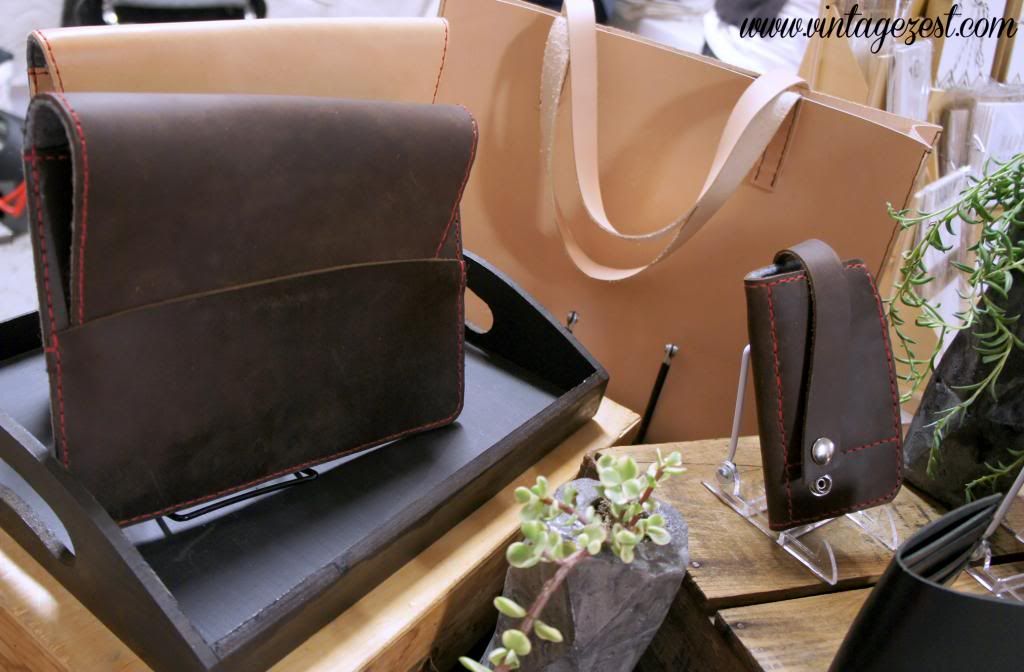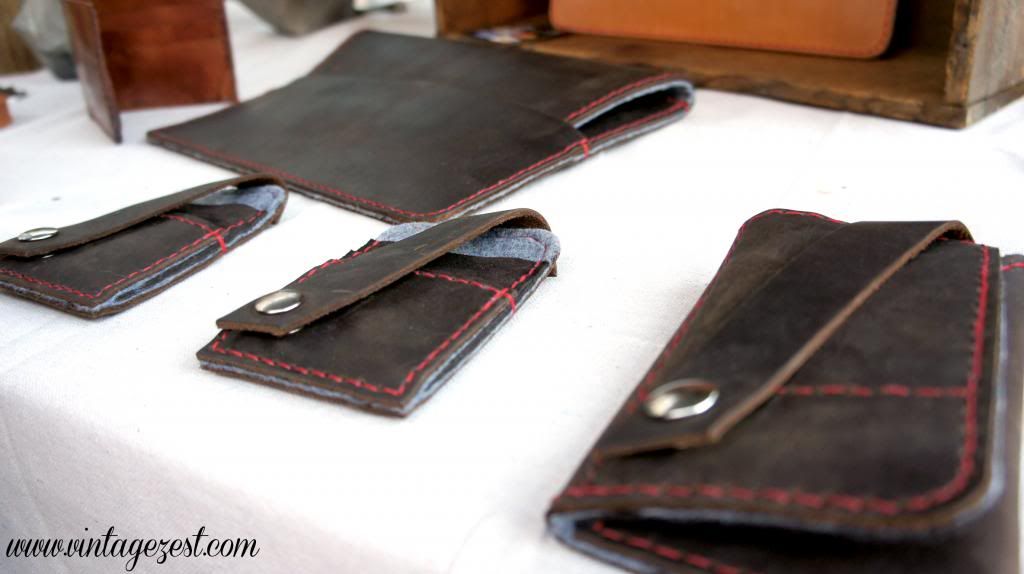 Where can I see more of your work and buy a gift?
Website:
http://www.montroseleatherworks.com/
Etsy:
https://www.etsy.com/shop/MontroseLeatherWorks
Blog:
http://montroseleatherworks.wordpress.com/
Tumblr:
http://montroseleatherworks.tumblr.com/
Facebook:
https://www.facebook.com/MontroseLeatherWorks
Twitter:
https://twitter.com/montroseLW
Instagram:
http://instagram.com/montroseleatherworks
In person:
Treehaus:
https://twitter.com/TreehausLA
Driftwood:
https://www.facebook.com/driftwoodstore
A Little Known Shop:
http://alittleknownshop.wordpress.com/
Australia NSW:
https://www.facebook.com/RabbitTrapTimber
Are you going to be at any shows soon, so I can see your work in person and say hello?
We've had a great response from Patchwork Long Beach/Santa Ana and UniqueLA in the past couple of years. We are hoping that we can get out there to some shows again this year. We'll have to wait and see… =]
I love every piece and I want just about one of every piece to match! I already have a beautiful phone wallet that I adore. You may have remembered when I
Instagram
-ed about it
last month
. It is getting lots of love nowadays! :)
By the way, you may have seen some of
Concrete Geometric
's lovely creations mixed in with the Montrose Leather Works' items because they actually work together in real life! What a talented workplace, am I right?
Now, it's time to start up the giveaway! There are two lanyards up for grabs: 1 Long Key Lanyard and 1 Small KeyLanyard. The first name drawn will get their choice of the two, so make sure to cross your fingers extra hard for this one since we'll have two winners! Just enter in the widget below and...