I love Mason jars! I mean, I only have a few crafty DIY tutorials on the blog and the majority of them are jar-related. :) After yesterday's post on the
DIY coffee grounds scrub
, I wanted to show you a simple way to package it up in an upcycled Mason jar!
********************
Growing up at home, we
always
recycled everything, mostly because my mom didn't like throwing things away destined for a landfill and the city picked up the recyclable items from our house. Easy peasy!
However, when I moved to
Nashville
, recycling was so much harder because I would have to lug everything down to my car and bring it to the recycling center and heave it into huge bins. I still did it, but sometimes it would be a month before I would drive over. What ended up happening was that I would accumulate all kinds of jars (pasta sauce, peaches, sun-dried tomatoes, etc.) in the meantime.
It quickly occurred to me that I could reuse them and cut my trips to the recycling center! I started storing candy, office supplies, and all kinds of things in them. :) Now, I'm a jar upcycling fool, and I would love to show you how I upcycle my jars!
First of all, you might be lucky to find a jar with a pretty lid and a label that peels right off. However, I found that most of the time you end up with a jar that has a brand name all over it, glue all over it, and the manufacturer print. I'll teach you how to remove all the ickiness and leave you with something pretty!
1. Remove your labels. Most of the time I only need to rip them off, but sometimes I soak them to remove stubborn bits of paper.
2. Wash your jar with warm soapy water inside and out!
Removing the print:
3. Fold your paper towel a few times so it is slightly thicker.
4. Apply a few drops of Goo Gone to the paper towel and scrub back and forth until the print is completely gone.
Removing stuck-on glue:
5. If the jar is easy, you can just rub the same paper towel with Goo Gone over the glue, and it will disappear!
6. However, sometimes the glue will not be removed and you will need to rub it with Steel Wool, which will remove the top layer of glue. Be careful not to scratch the glass! Then, follow up with more Goo Gone to remove the remaining bits of glue.
Painting the lid:
7. All you have to do is use your favorite spray paint! I do not recommend reusing the jars for food, because the spray paint is not safe.
I like to use my
spray paint gun
to make everything easier! Lesson learned after my hand was tired after the
DIY jewelry organization
. :)
So much prettier!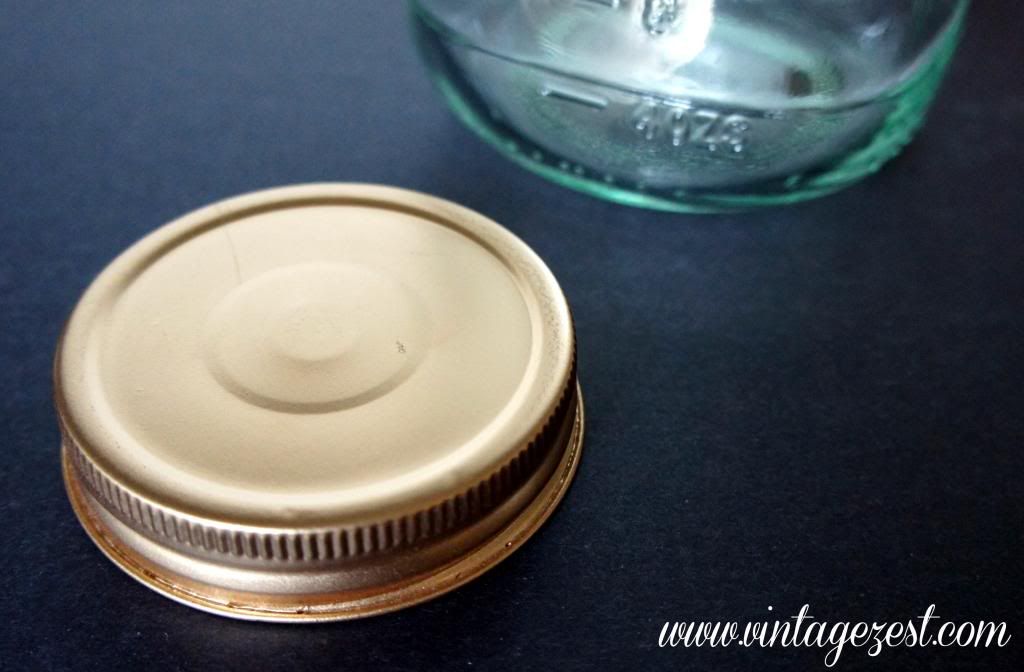 That's it! Now you are all done with your pretty jar, and you can use it for whatever you like. :)
By the way, I'll share the deal with those orange peels later! :)

*Update* Here is my post about recycling orange peels into a lovely chemical-free cleaner!
That's it! I'm not sure how many of you upcycle your jars, but I hope more of you try it out!
What are you going to use your upcycled jars for?
This post contains affiliate links, meaning that if you make a purchase using one of the links, a small commission will go to support Vintage Zest. I will only recommend sites with products that I think you will love and enjoy!