I'm so happy to have one of my personal favorites for today's
Shop Small Saturday Showcase
feature! I was lucky enough to try
p.o.p. Candy
a few years ago during one of the
Patchwork events
and I have been hooked ever since! While interviewing them, I found out that they have been featured on
Oprah
,
Woman's Day magazine
, and so many other places. I'm in good company!
Also, they are offering one of you
lucky
readers the chance to win one of their
Crazy 8 packs
, so you can sample 8 different flavors. Nice! Or you could be a really great friend to 7 people, keeping one for yourself! Let's get to Rachel & Billy's interview and stay tuned for the giveaway at the end of the post.
P.S. - This is an awesome Valentine's gift for anyone... hint, hint!
********************
Tell me a little bit about yourself!

We are a hub-and-wife team that, amazingly, got married *after* starting p.o.p. candy co. six years ago. Billy has been in the food production for -- let's just say it -- most of his life. (He's pretty bonafide!) Rachel is a former restaurant owner, though her training has been in the nonprofit world, so when we started p.o.p., integrating a philosophy and mission statement into what we're doing came naturally. Great food and building community is what we're about.



Where did the name of your shop come from?
This one's easy. We wanted to ground p.o.p. in the Santa Monica community, since we'd been enjoying life and our neighbors here for some time. Billy came to Rachel with a short list of Santa Monica places and areas -- both present and historic -- and Pacific Ocean Park was at the top of the list. POP" (pronounced "P-O-P") was an amusement park that stood on Lick Pier at the end of Ocean Park Boulevard in Santa Monica from 1958 to 1967. It was designed to compete with Disneyland, and customers who visited it remember it FONDLY. It really was something special and intrinsic to Santa Monica's past. We believe in the cultural significance of POP and Licks Pier, and the pleasure they brought to SoCal and the local beach culture. p.o.p. candy co. is a nod (but not named after) POP.
Why did you start making goods for p.o.p. candy?
Our butter crunch started as holiday gifts for family and friends. They looked forward to getting it every year and, after one entrepreneur friend of Rachel's repeated -- something sternly -- a couple of years in a row, "You really need to be selling this stuff. No ... really," we decided to take the leap when an opportunity to test the waters at a local farmers market arose. We sold out and were offered a vendor spot the first day.
What is your favorite item?
Our favorite p.o.p. flavors? It would be too easy to say that it's usually our last creation, right?! RACHEL: You could drop me on an island with salty-sweet p.o.p. mix. Tell me I'd just have that and coconuts to eat for the rest of my days and I'd be fine. (Okay, maybe with some Fire Pistachio too.) BILL: For me, it's brown sugar & cinnamon and pecan. Those two flavors always knock me out whenever I try them.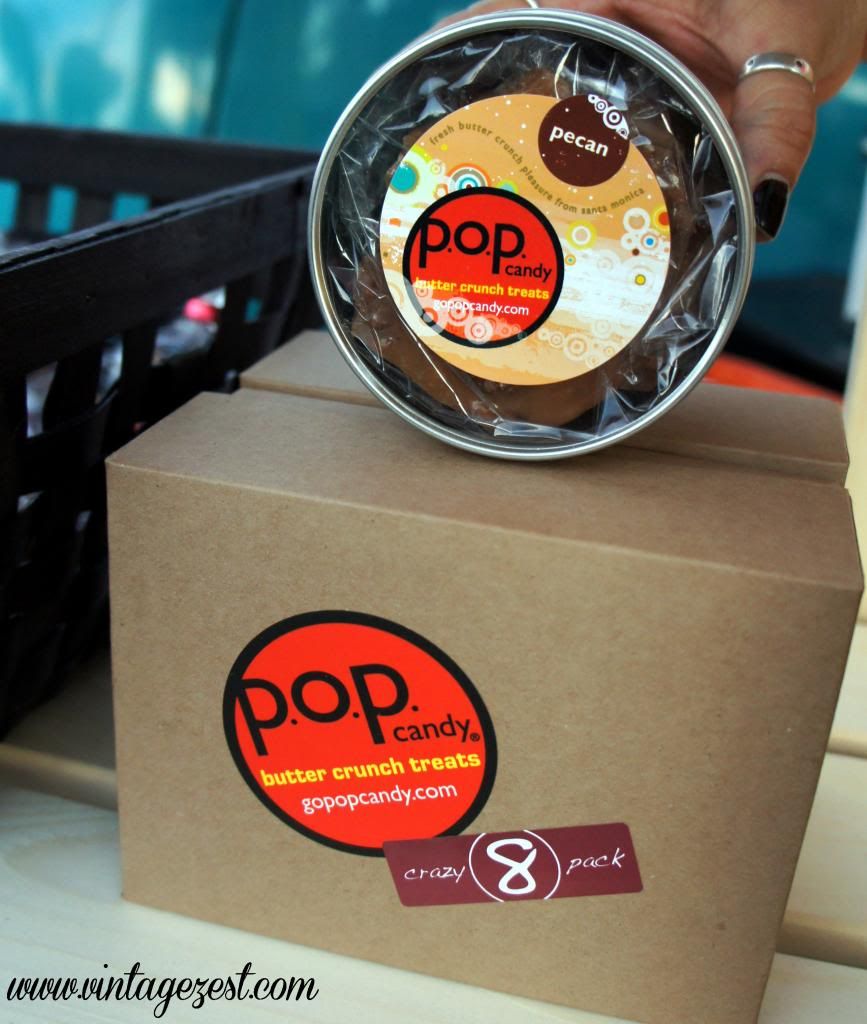 What is your most popular item?
Depends on where we're selling. Rosemary Almond, Fire Pistachio, Brown Sugar & Cinnamon, C-C-Curry sell out at every indie craft show. On the other hand, pecan causes the ridiculously high number of eye-rolls. Truly -- we hear this often, but one customer said it best: "OMG. My favorite flavor is the last one I tasted!"
Where do you get the inspiration for your products and flavors?
Anywhere. Many different sources. Customer suggestions. Food we love. Drinks we love. Be on the lookout for Old Fashioned p.o.p. in 2014.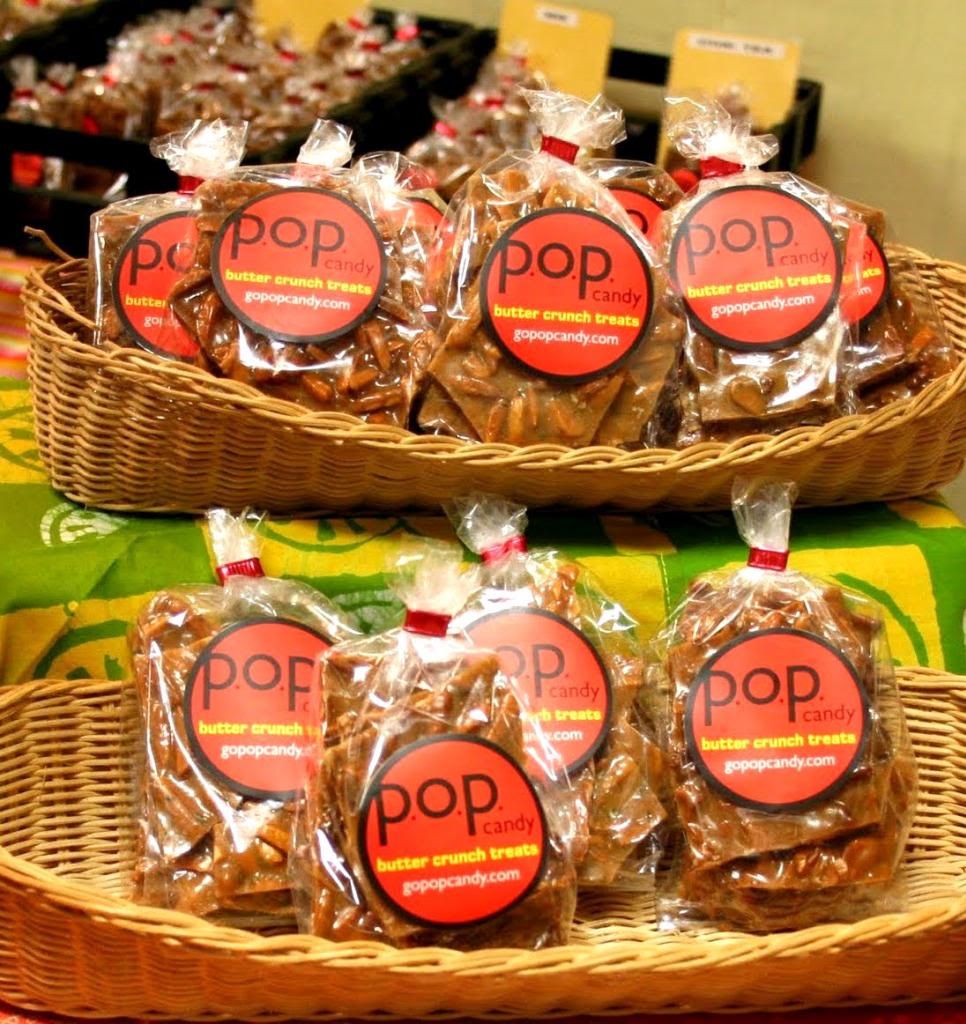 What makes your products unique?
That's easy. Use of farmer's market herbs, premium spices, and real food to create our flavors. People are constantly surprised by the ingredients we use that you don't normally find in toffee or brittle. Shredded carrots in our carrot cake (a 2013 holiday special flavo); Groundworks coffee and fuji applies in a granola bar; natural sundried cherries in our Thyme, Walnut,and Cherries; anise in our no-nut p.o.p. That and no corn syrup, no oils, only premium butter and nuts. We stand by every list of ingredients for every one of our flavors.
What is the toughest part about making your goods/the creative process?
Finding time for R&D, meaning, time to create new flavors. You just can't rush the creative process. Sometimes we know the flavor we want to end with, but we don't always know how we're going to get there. Part of the process is to make sure that we can execute a flavor we create again and again. Our goal for each new flavor is to create a truly memorable experience.
When is the last day I can order in time for Valentine's Day and do you have any specials for the holiday?
Monday, February 10.
The
Fire and spice p.o.p.
dipped in chocolate ... What's not to love?! (
See picture below. Yum!)
We're dipping fire pistachio and spicy curry p.o.p. in chocolate for this wicked Valentine's Day special. Our smoky rich Fire Pistachio 3" hearts are half double-dipped in premium Belgium chocolate that's dark, semi-sweet, satiny, and incredibly delicious. Our flavor-bursting C-C-C-Curry 3" hearts are half double-dipped in creamy white chocolate that's rich in cocoa butter (oh my!). (C-C-C-Curry = combo of cinnamon + coconut + curry.) The butter crunch and chocolate pairings are mouth watering and PERFECT!
Two of each flavor hearts (so 4 total per order) are tucked in a p.o.p. kraft gift box that's wrapped with a vellum band and satiny Valentine's Day bow and "kissed" with sweet and salty Valentine's Day messages.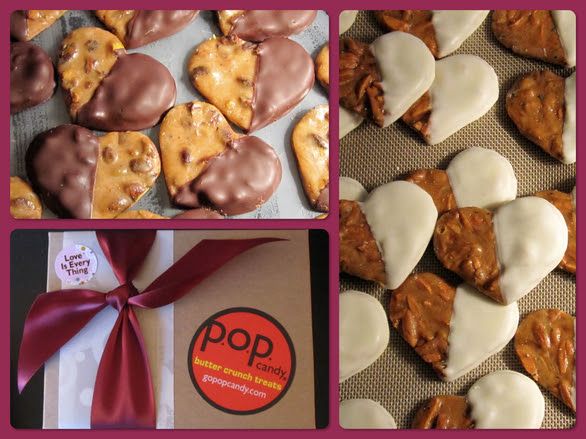 Where can I see more of your treats and buy a gift?
********************
I love these goodies! You have to try them, and let's get to the details for the Valentine's Day promo! For the special
Valentine's Day Fire & Spice item
, Vintage Zest readers will receive 10% off, so it's only $18! Just use the code VintageZest10!
Now for the giveaway to win a Crazy 8 pack. Just enter in the Rafflecopter widget below! Please be patient because it may take a moment to load.