Happy Monday!
I feel like I am getting started off on the right foot this week after posting my
fitness & nutrition plans
last week. Woo hoo!
Today, I wanted to share a quick, easy recipe for minestrone soup that I make a ton. I did not do my usual step-by-step pictures, and truth-be-told, I usually do not use a recipe for this soup. I alter it depending on what looks good at the store that night. However, this is my favorite version of the soup, if I have access to fresh ingredients. Enjoy!
Healthy Minestrone Soup
A Vintage Zest original
Ingredients
1 Tbsp. oil
1 medium onion, diced
4 - 5 medium carrots, diced
4 - 5 stalks of celery, diced
1 head of cauliflower, florets separated into bite-sized florets
1 head of broccoli, florets separated into bite-sized florets
4 zucchini, diced
1 bunch of kale, ribs removed and cut into bite-sized pieces
1 can of diced tomatoes
1 - 2 quarts Chicken broth
(Optional) 1 can of beans *Our favorites are cannellini or kidney beans)
(Optional) 1 cup Ditalini pasta
Salt, to taste
Pepper, to taste
Fresh herbs or dried herbs, to taste *Some favorites are basil, oregano, rosemary, etc.*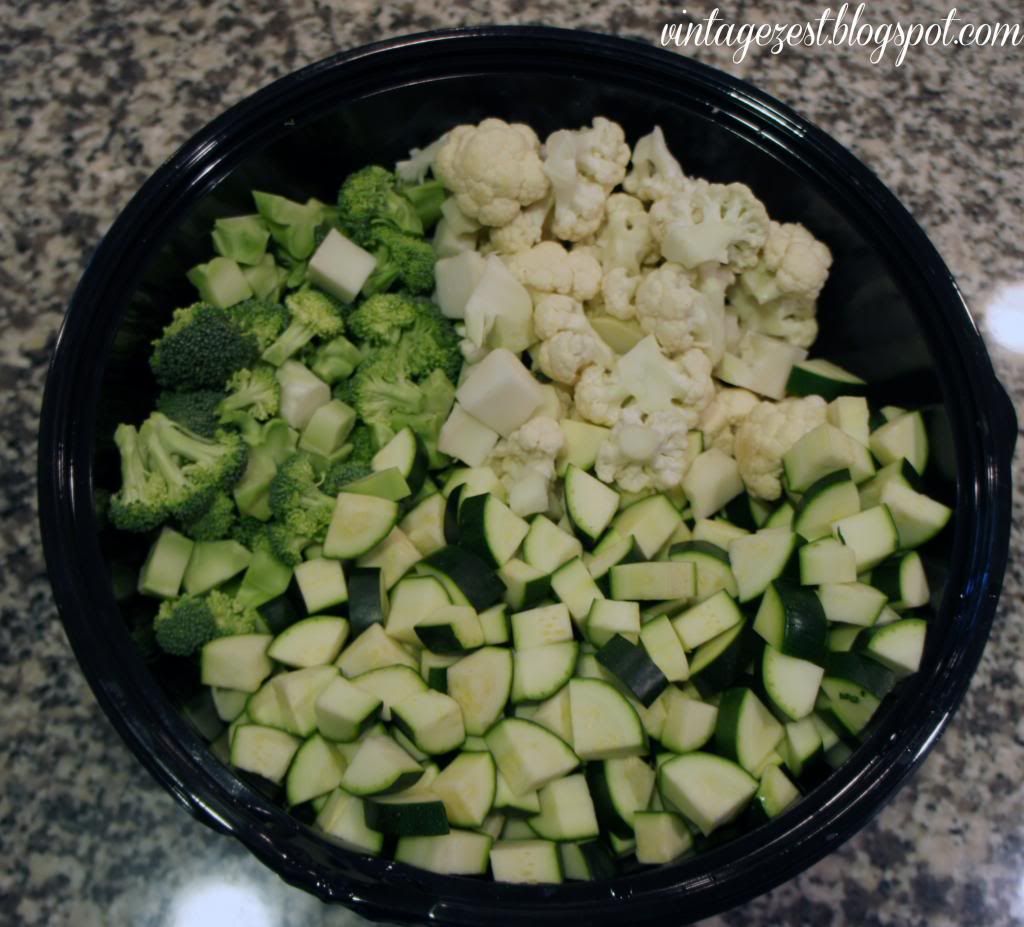 Directions
1. Heat the oil in a large stockpot over medium-high heat.
2. Add the onions, carrots, and celery, stirring occasionally, until soft, 3 - 5 minutes.
3. Add the cauliflower, broccoli, and zucchini, then cover. Stir occasionally, until soft, 3 - 5 minutes.
4. Add the kale and cover again, for roughly 2 minutes until bright green.
5. Add the diced tomatoes, chicken broth, beans (if using), and pasta (if using). Add as much chicken broth as you would like. Sometimes I prefer a chunkier soup, and sometimes a thinner soup. Add water, if necessary.
6. Heat until boiling and then simmer for an additional 10 - 20 minutes.
That's it!
Personally, I love this soup because it is so easy to make and it is so colorful. Also, it does not get overly mushy because all of the veggies are nice and hearty, especially the kale.
When I am extra busy and need to bring my lunch to work, I pre-pack all of my soups into individual containers. Remember, it's the same thing I do for my
yogurt
! If you do the same, just make sure the soup has cooled completely!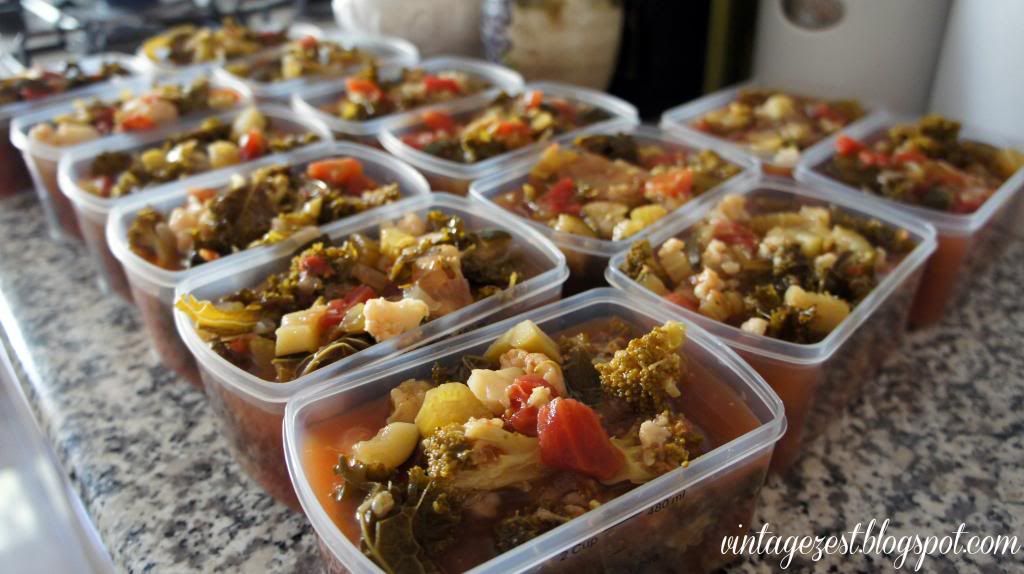 I love having a recipe that I don't even have to think about. It is just chopping, keeping an eye on the pot, and waiting until everything smells delicious. Yum!
Do you have a favorite go-to soup? I would love to know!