Are you ready for easiest "recipe" ever? I make this little nuggets all the time for my niece and I thought it would be a fun little snack idea that we like to share. I used to work at a children's clinic that focused on healthy eating choices and exercise, so all day long I was talking about food! You can see how this might be a problem for a
foodie
like me. :)
Anyways, we would frequently need to suggest quick, healthy, kid-friendly breakfasts and snacks because that was a popular parent question. One of the favorites was 100% whole wheat toast topped with peanut butter and banana. Fast, simple, and filling. :) In fact, it became one of my "go-to breakfasts" on busy mornings!
However, nowadays I do not buy sliced bread as much (my carb of choice is pasta), but I missed my old favorite. Then, I came up with a cute idea that is a good snack for kids and adults alike. Here are my Simple Peanut Butter Banana Bites!
Are you ready for the hardest recipe ever? Just kidding! It is super simple, but check out my secret ingredient below. :)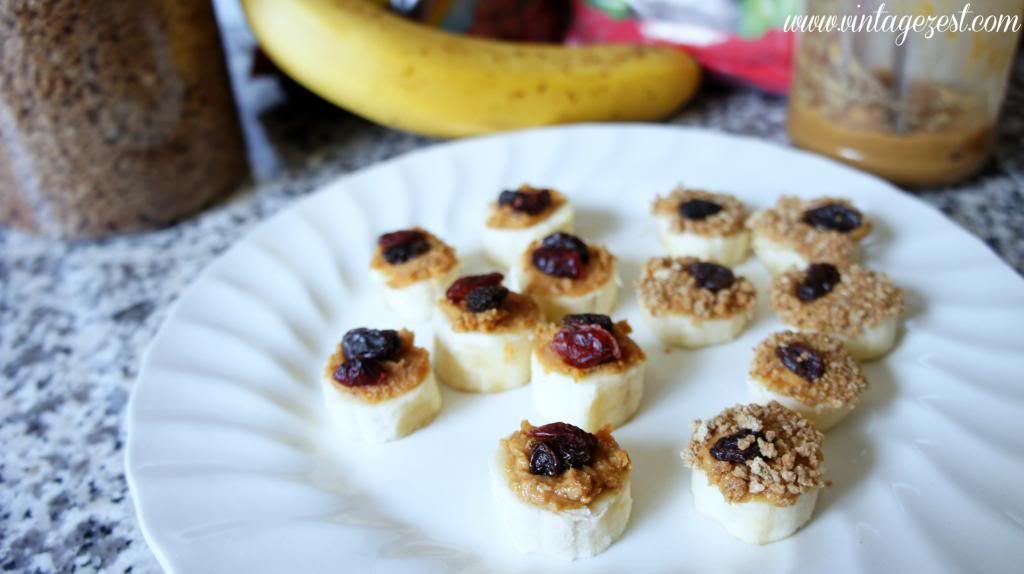 Simple Peanut Butter Banana Bites
A
Vintage Zest
original
Ingredients
Banana
Peanut Butter (or almond butter, cashew butter, sunflower seed butter, etc.)
Raisins, dried cranberries, etc.
Optional: Grape-Nuts
Directions
Slice your banana into discs.
Top with peanut butter.
Press a raisin onto the top.
If using Grape-Nuts, flip over the banana disc and press into the Grape-Nuts. If not using Grape-Nuts press another raisin or dried cranberry onto the banana disc.
Finished! Just repeat for the remaining bites.
Personally, I love eating the Grape-Nuts version, and I make the cranberry version for my niece, although sometimes she prefers the crunch of the Grape-Nuts. Yum!
Such a simple, delicious snack, and it probably will take you longer to read this post than it will to make the bites. :) Enjoy!
Do you make kid-friendly snacks for yourself?