Last week, I shared my favorite hand pie crust. I named it the
Simple, No-Fail Pie Crust
because it is
exactly
what the title says. Now, what does the perfect pie crust need? A filling!
I promised to share a couple of fillings and today I have one of my favorites… chicken pot pie! The and pie version is a bit different from your average pot pie because I like to keep it on the less-creamy side so it doesn't explode in your mouth as you are eating it, or even worse in your lunch bag.
The best part of the pot pie filling is that you can practically personalize it with anything you like! The chicken is a given, but you could use turkey instead or leave it out as a hearty vegetarian pot pie. As you will see, I actually was out of carrots, but it turned out delicious nonetheless. At the end of the recipe I will include a few variations that we like to use in our hand pies. Enjoy!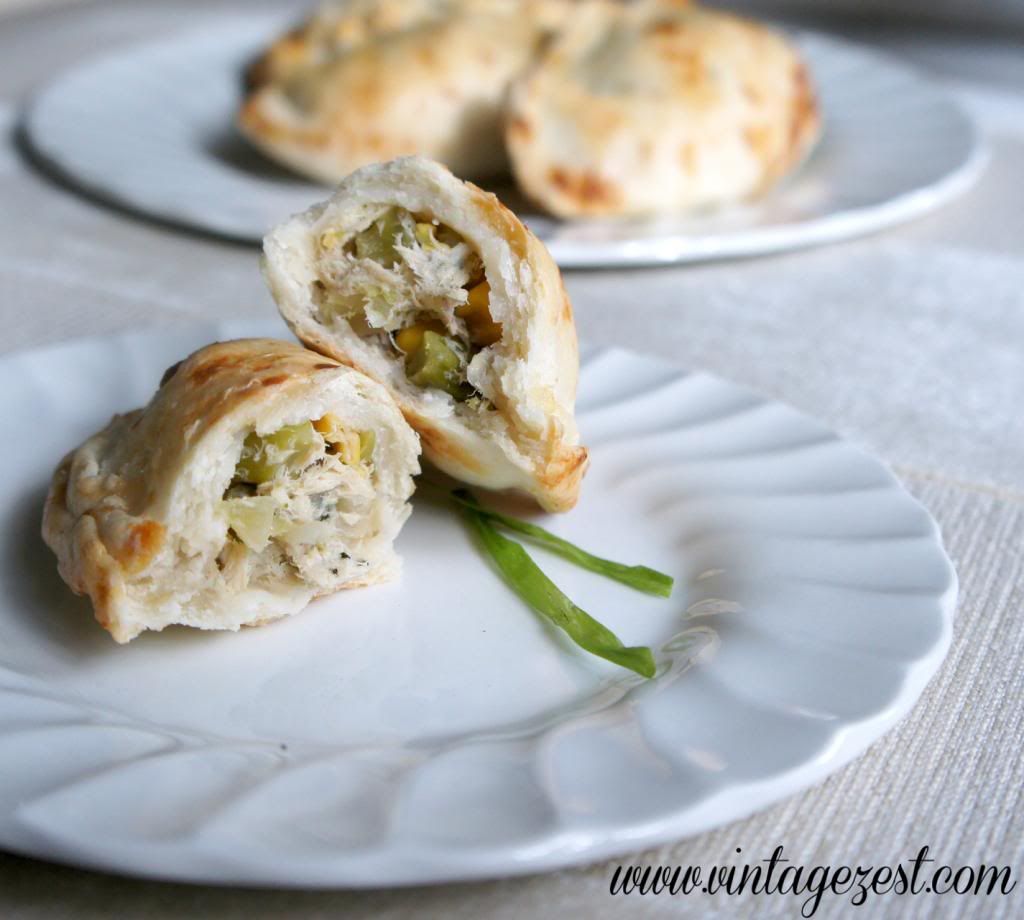 Chicken Pot "Hand" Pies
A
Vintage Zest
Original
Ingredients
1 Tbsp. butter
1/2 onion, chopped
2 small red skinned potatoes, diced
1 celery stalk, chopped
1 carrot, diced
(not pictured, but recommended for flavor and color)
2 Tbsp. all-purpose or whole-wheat flour
1 3/4 cups
chicken stock
1/4 cup Parmesan, shredded
1/2 cup frozen broccoli, chopped
1/2 cup corn
1 cup shredded chicken
(I use the chicken from my homemade chicken stock)
Salt, to taste
Pepper, to taste
Pie crust, premade or
homemade
1. Melt the butter in a medium-sized pan over medium-high heat.
2. Add the onion and cook until translucent.
3. Add the potatoes and cook 2 to 3 minutes, until cooked through.
4. Add the celery and carrot (if using) and cook 2 to 3 minutes, until cooked through.
5. Next, add the flour and cook for 1 minute more, just until the flour is not raw, making sure there are no lumps.
6. Add the 1 1/2 cups of the chicken broth (reserving 1/4 cup) and cook for an additional 2 minutes.
7. Add the Parmesan cheese and cook until melted.
8. Mix in the shredded chicken and corn.
9. Season with salt and pepper, to taste. If the mixture is too dry, add the remaining 1/4 cup of chicken broth.
10. Set aside to cool while working on the pie crust.
11. Make sure each hand pie crust is in a 5" circle.
12. Preheat oven to 425°.
13. Add 1 heaping Tbsp. of your filling of choice.
14. Fold dough over filling and either press edges together with a fork to seal or crimp shut.
(I experimented, as you can tell and I recommend laying the pies flat to avoid burnt edges.)
15. Place on a parchment paper-lined baking sheet. You may cut 1 to 2 slits in top of each pie to release the steam.
16. Whisk together egg and 1 Tbsp. water and brush each pie.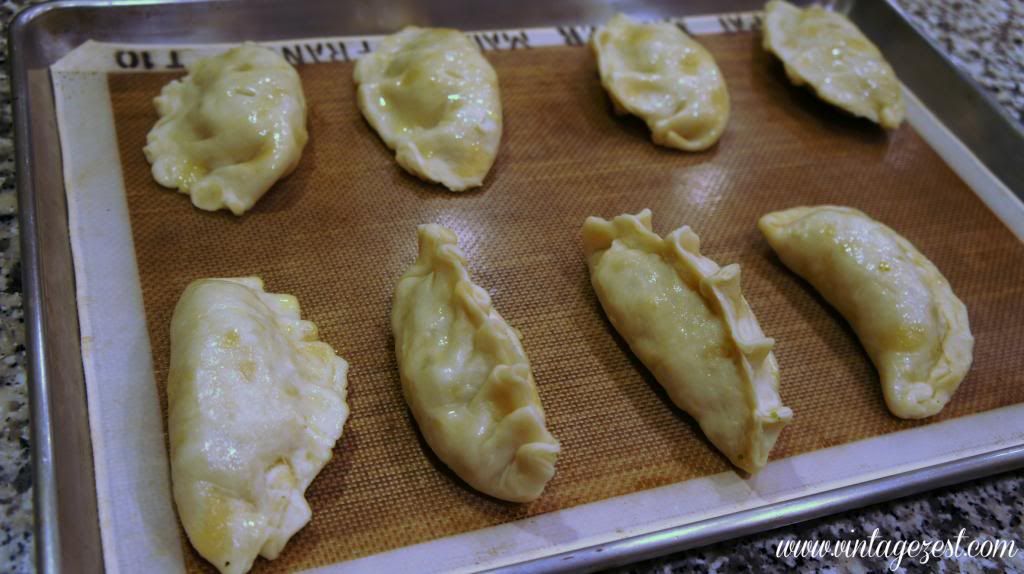 17. Bake at 425° for 15 to 20 minutes or until golden.
18. Remove from pan to a wire rack, and cool 15 minutes.
That's it! Personally, I ended up loving this version of my pot pie, even without the carrots. Delicious! As for the variations, here are a few ideas for you...
Other vegetables that I like to add:
Mushrooms
Cauliflower
Yukon potatoes: they are a bit creamier than red skin or Russet potatoes
Peas
Red or green bell peppers
String beans or asparagus
Also, if you like a very creamy sauce, you may want to replace some of the chicken stock with milk or cream as in a typical pot pie. Really, this is one of my favorite way to use up veggies and have something delicious to eat afterwards!
Another tip from me is that you can freeze these and they hold up really, really well. The
pie crust
that I use keeps together, so you can have something delicious and homemade any time at all!
What would you put in your hand pie? Have you ever made one before?