Remember last year when I went to
Europe
? For the first few legs in
London
and
Paris
, I was joined by my friend, who shares my love of pies and sweets!
So that meant when we had some free time in the kitchen one weekend, we were ready to tackle a fun project...making our own pie crust from scratch! Actually, I had made some a couple of times before, but I did not have a tried-and-true recipe. Also, those were either breadier recipes for calzones or regular pie crust recipes, and I had my heart set and making hand pies! Now, having made this recipe a few times now, I am ecstatic to say that I have a new favorite pie crust, and I even passed it on to my mother who gave her stamp of approval! Awesome!
So along with the original recipe, I will add my own notes for both good and bad variations that I have made since. Let's get to it!
Simple No-Fail Pie Crust!
Adapted from
Southern Living
Ingredients
1/2 cup butter
2 1/2 cups whole wheat pastry flour
3/4 tsp. salt
1/4 cup ice-cold vodka
4 to 5 Tbsp. ice-cold water
Original Ingredients
1/2 cup butter
4 Tbsp. almond paste
2 1/2 cups all-purpose flour
3/4 tsp. salt
1/4 cup ice-cold vodka
4 to 5 Tbsp. ice-cold water
Butter = I have used both oil and argarine to replace the butter. The real butter easily tastes the most authentic and bakes flakier. The canola oil is a suitable replacement, if you cannot use butter, but you will need to add extra flour (tablespoon by tablespoon) to account for the different texture
Almond Paste = I tend to omit it because it is the only item that I do not have in my pantry at a moment's notice and it is very expensive! It has an odd flavor for savory crusts, but does impart a nice flavor to sweet crusts.
Flour = I prefer whole wheat pastry flour to the original all-purpose flour, for a bit more whole grains. There is very little difference, unless you compare them side by side. However, I would stay away from 100% whole wheat flour which bakes up very bready in texture.
Vodka = I read that vodka helps to create a flaky crust, which I am inclined to believe after making this recipe! I keep it in my recipe and I bought a cheap bottle just for my pie crusts, which works splendidly. However, if you are concerned with adding alcohol, you could always just substitute it for regular water, but the consistency will change somewhat.
Directions
1. Cut 1/2 cup butter (and the almond paste, if using) into small cubes.
2. Chill butter (and almond paste) for 15 minutes.
3. Stir together flour and salt.
4. Cut butter and almond paste into flour mixture with a pastry blender until it resembles small peas.
Note:
If you do not have a
pastry blender
, I highly suggest you get one! Not only is it much quicker, the almond paste is extremely difficult to break down. These pictures are from our first attempt, so you can see that the final product had large almond paste clumps in the dough. Even though it tastes great, it looks a little funny!
See how much better the second attempt with the wheat flour below looks? Much, much more even and
much
quicker!
5. Gradually stir in the vodka (if using) and 1/4 cup ice-cold water with a fork, stirring just until dough begins to form a ball and leaves sides of bowl, adding up to 1 Tbsp. more water if necessary.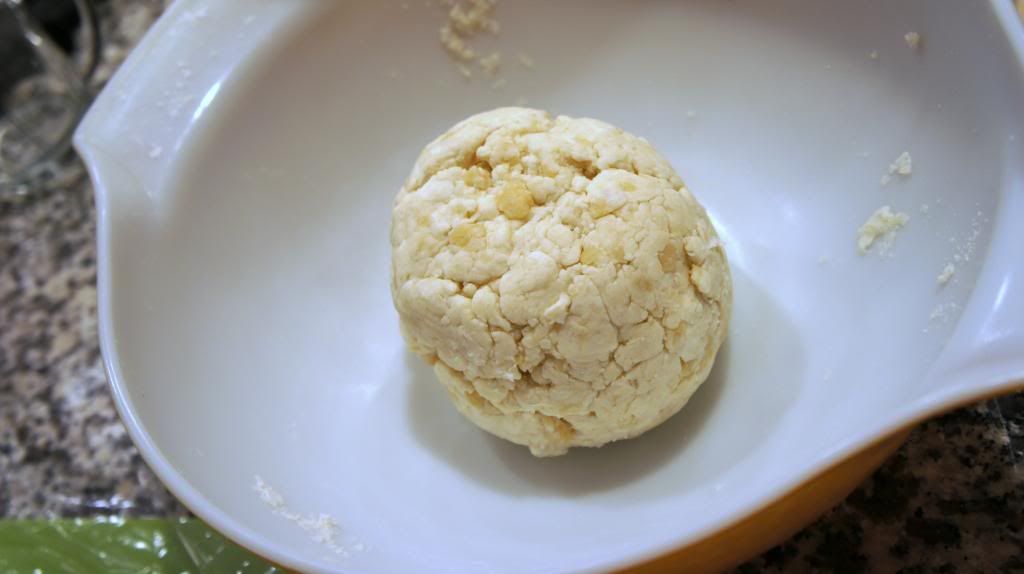 6. Place dough on plastic wrap.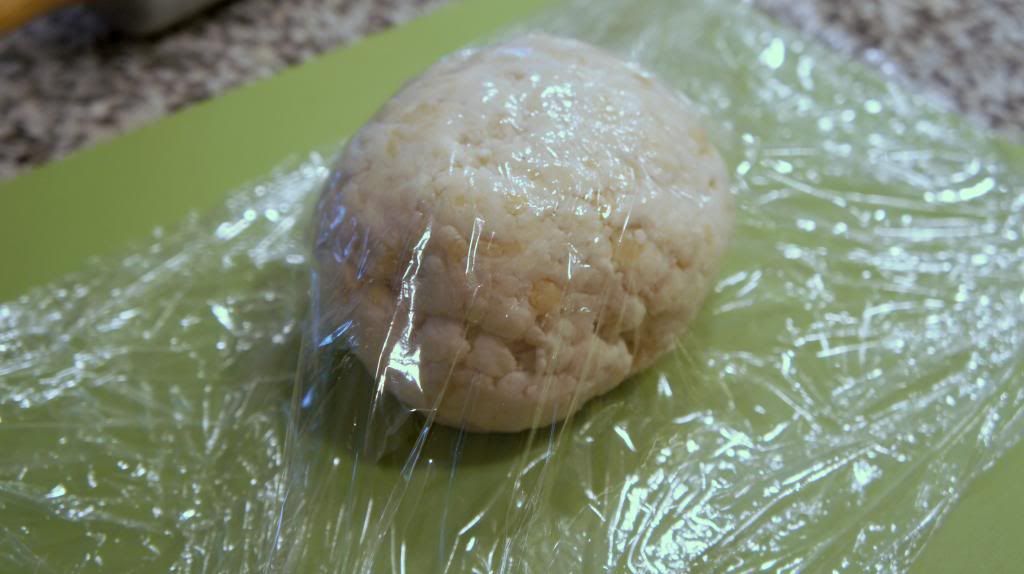 7. Shape into a flat disk.
8. Divide dough into 12 portions.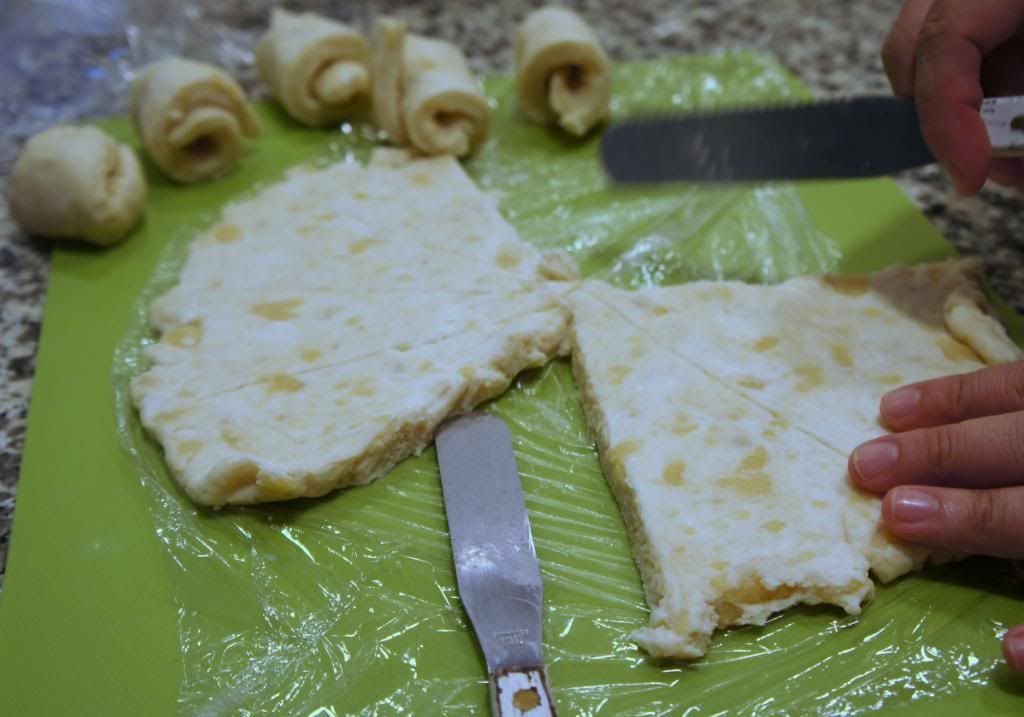 9. Shape each into a ball.
10. Flatten each into a 3-inch circle on a lightly floured surface and roll into a 5-inch circle.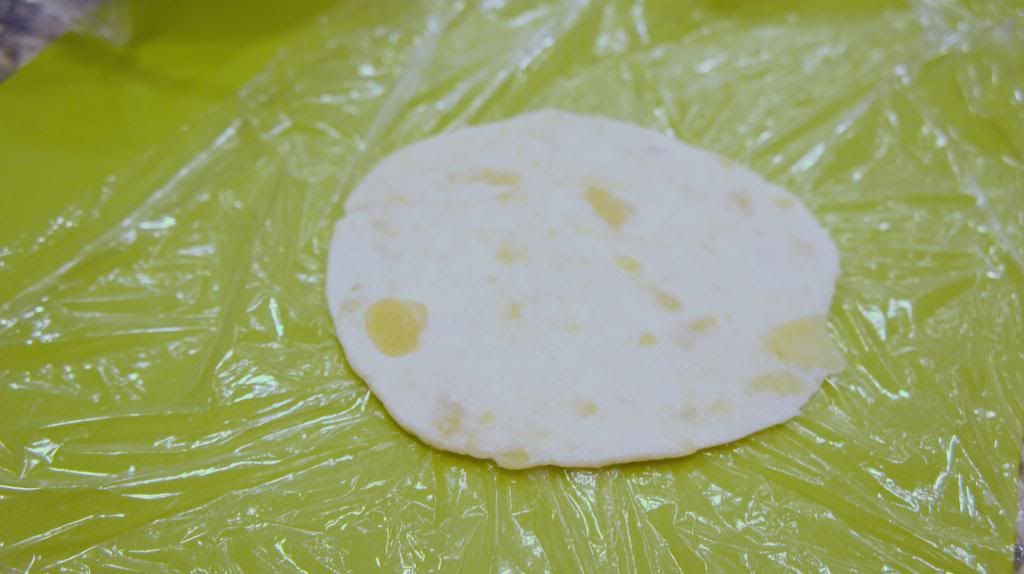 11. Stack circles between layers of plastic wrap or wax paper. Cover stack with plastic wrap.
12. Chill 2 to 24 hours.
When ready to use the crust:
1. Preheat oven to 425°.
2. Add 1 heaping Tbsp. of your filling of choice.
Note: I will have a couple of filling ideas for you next week, including the one below...
*Update* Find the Chicken Pot "Hand" Pie recipe here!
3. Fold dough over filling and either press edges together with a fork to seal or crimp shut.
4. Place on a parchment paper-lined baking sheet. You may cut 1 to 2 slits in top of each pie.
5. Whisk together egg and 1 Tbsp. water and brush each pie.
6. Bake at 425° for 15 to 20 minutes or until golden.
7. Remove from pan to a wire rack, and cool 15 minutes.
I love this crust and it is so quick and easy to make, that we keep thinking of new items to fill it with, so we can continue making more and more hand pies!
What is your favorite pie filling?