Hi again!
Between all of the
awful customer service
calls this week, I was making a few changes to my blog. Just little tweaks here and there, including the floating social media bar when you scroll down and my header with built-in social media buttons! Fancy!
Anyways, in between all of the changes, I needed to back up my template. It always takes me a couple of minutes to remember how to do it, as well as how to back up my blog posts. While doing it, I decided to take a few screencaps for anyone who wants to know how to do it, plain and simple!
One note about this tutorial, is that it is written for the Blogger platform, because that is what I use. Sorry Wordpress, tumblr, etc. users!
By the way, there are two parts to this tutorial:
Backing up your blog posts means saving the content that you publish every day. I try to do this weekly, just in case.
The Template refers to a bunch of items in your blog, including the font choices, widgets, and other customizations you may have made. If you make a mistake while editing your template HTML, it can be a nightmare to repair. I usually just save an HTML before making any changes, such as when I added the floating social media bar.
So without further ado, here is Part 1 of backing up your blog!
Backing Up Your Blog Posts
1. Click on the name of the blog you want to back up to go do the dashboard.
Note
: I will include a red oval that shows where you need to click for each step.
2. On the left sidebar, click
Settings
.
3. Under Settings, click
Other
.
4. Click
Export Blog
.
5. Click
Download Blog
.
That's it! As you can see, my file downloaded perfectly. Mine is only 12.6 MB, so you won't need tons of space to store your backup files.
1. On the left sidebar, click on
Template
.
2. Hiding all the way on the top right is the
Backup/Restore
button. Click it!
3. A box will open up, and click
Download full template
.
That's it! As you can see, this file was only 113 KB. Tiny!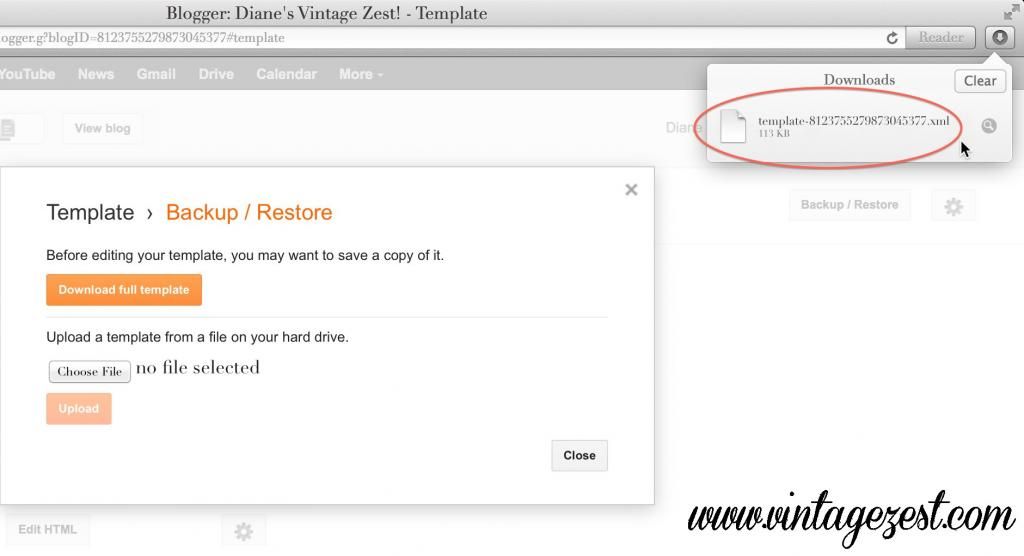 Both of the files downloaded to my desktop, but I move it into a folder with the rest of my backup files. There is no need to rename them because you can always reorder them by "Date Created" if you want to find the latest one.
Well, I hope that I helped to save some time clicking around the entire dashboard looking for the back up buttons! Let me know if this is something you needed to know, or if I am just writing this as a reminder for myself. :)
How often do you back up your blog posts and template?