Continuing with this month of healthy recipes, I have a fun way to get TONS of veggies into your diet! It is super easy and quick, which I love on those nights that I don't want to chop a bunch of veggies and wash a boatload of knives/cutting boards/pots/pans/dishes.
There are so many ways to prepare this dish, and I will share a few of my favorite versions. :)
Here is my "recipe" for easy Veggie "Pasta!"
Disclaimer
: This cannot completely replace or mimic pasta noodles, especially because I am a carbolic. However, considering the amount of nutrition it packs versus the higher calorie amount in pasta, it is a good swap to make every so once in a while.
Before I get to the magic ingredient, I should explain a couple of things. I have a serious pasta addiction. When I was a child, I brought spaghetti sandwiches in my bag lunch. Yes, that's two slices of white Wonder bread wrapped around as much spaghetti as I could possibly eat, without it falling apart. I became REALLY good at making them. :)
Anyways, I have tried all kinds of pasta substitutes:
Spaghetti squash:

Texture: a bit crunchy
Taste: good, but can be a bit on the watery side
Prep time: lots of time needed

Shirataki noodles:

Texture: can be odd & squishy
Taste: sometimes fishy, depending on the brand
Prep: very little!

Homemade zucchini noodles

Texture: best by far, unless you don't remove the seeds
Taste: awesome!

Prep: a bit of time to use the

spiral veggie cutter

and more time to cook; lots of clean-up :(
So for me, the best of the three is the zucchini noodles, which do take a bit of time. However, it was my lucky day at the store because I found this on sale. I fell in love. :)
Yes, I do realize that this says Best By: 08/13/13, but I took these pictures about 6 months ago, hence the Blogspot web address. Yep, I'm juuuust a bit behind with this post! :)
It's broccoli slaw! How does this become pasta? Here's the "recipe."
Veggie "Pasta"
A
Vintage Zest
original
Ingredients
Broccoli slaw
(Serving options below)
Directions
1. Place the broccoli slaw on a microwave safe plate.
2. If desired, you may remove the large pieces of cabbage that will not "feel" like pasta when cooked.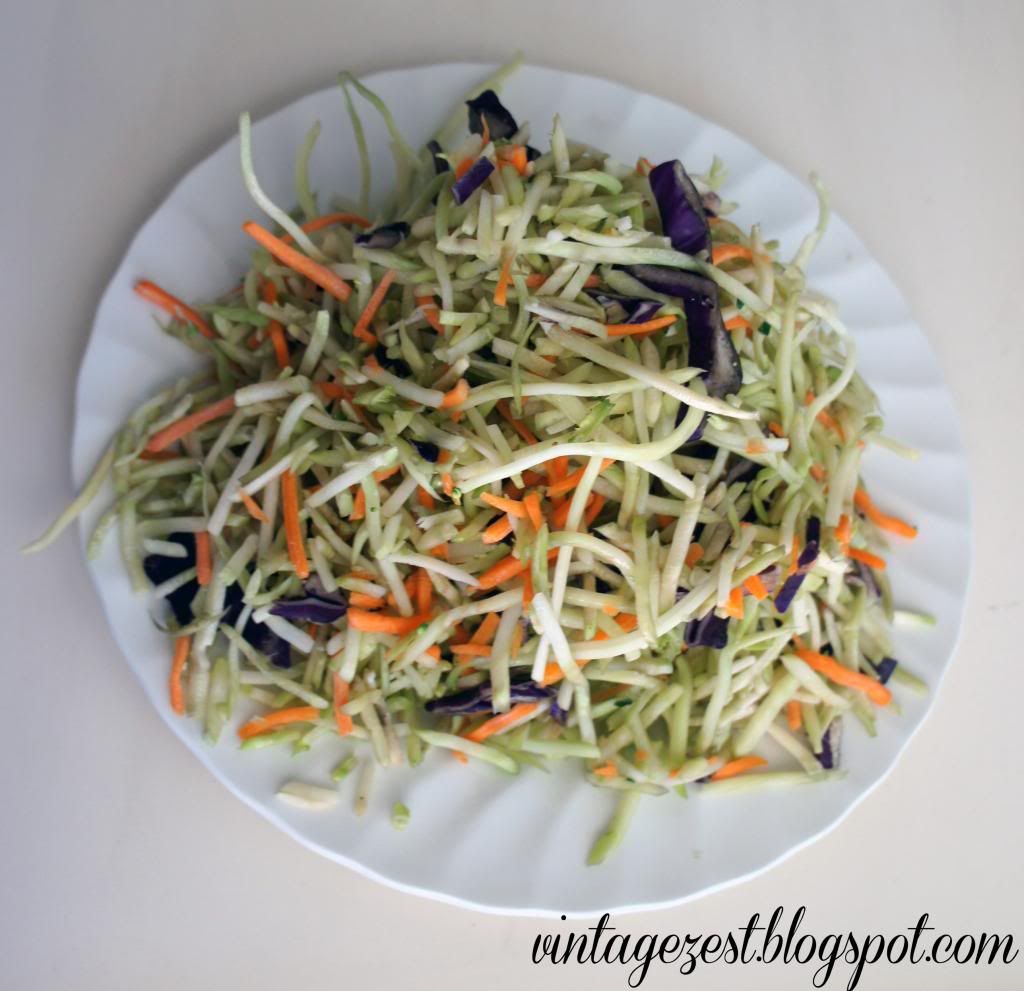 3. Steam in the microwave with a bit of water or in a microwave steamer for 4 to 5 minutes, depending on your settings. I check on mine every 2 minutes, just to see how it is doing and to stir it around.
That's it!
So, how do I serve it? Any way that I would normally eat pasta! Here are my favorite topping ideas, which I always have on hand:
Pesto
Spicy tomato sauce (if I have extra from this lasagna recipe)
Sundried tomatoes
Cherry tomatoes, sliced
Mozzarella cheese
Grilled chicken breast (you can see that above)
Then, I just stick it in the microwave again, and it's perfect! You could always cook this in a pan, but on my lazy days, I love just having one plate to clean at the end of a very healthy dinner.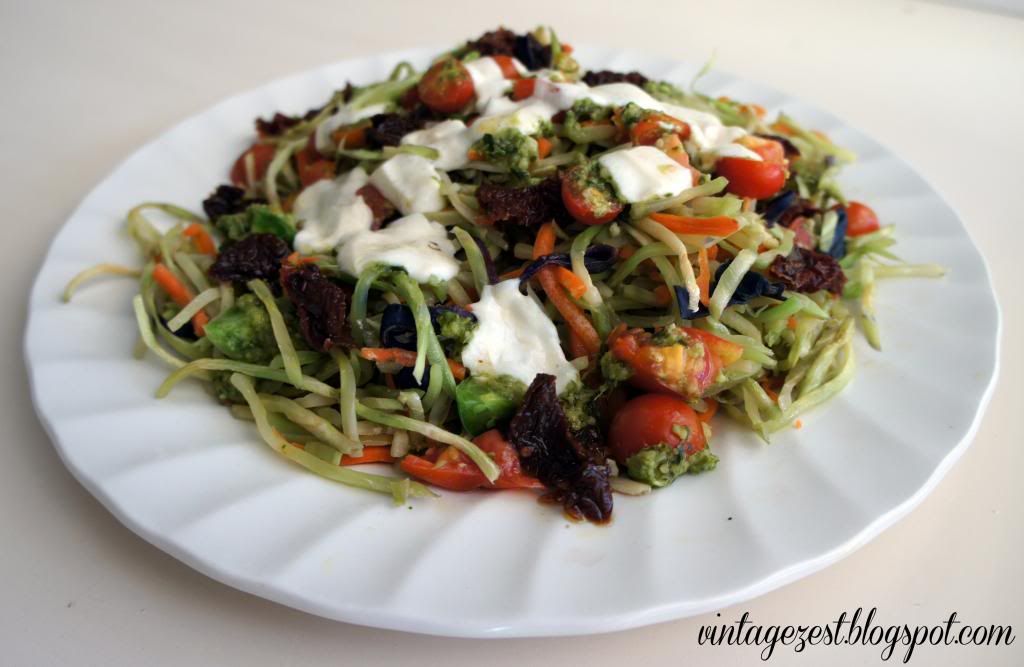 What is your favorite no-cook healthy dinner?