This is a pretty embarrassing post, but I do it in the name of cataloging my past work without holding anything back. Unfortunately, I have two as-yet unfinished projects to share with you: a green lace dress and a mustard yellow coat. I keep thinking, "Maybe I'll finish these one day!" and they've sat for over four months now untouched! Well here goes, warts and all...
In this post:
"Emerald is This Girl's Worst Friend" Dress
For this first dress, I had visions of an emerald green lace beauty like the one
here
. The lovely lace overlay, button up front, scalloped lace hem and neckline, and cap sleeves were adorable!
Unfortunately, it was sold out and $915 even if it was available, so I thought i could try to make my own version. I attempted to make a muslin (hopefully wearable!) with some not-so-pretty emerald mint green lace that I bought from the Sewer's Guild yard sale for $1 or $2, because I had never worked with the stuff before. The black was regular poplin from M&L for $1.98/yard.
There was no pattern that matched my vision, so I patched together McCall's 6460 for the top piece...
...and Simplicity 1755 for the bottom skirt.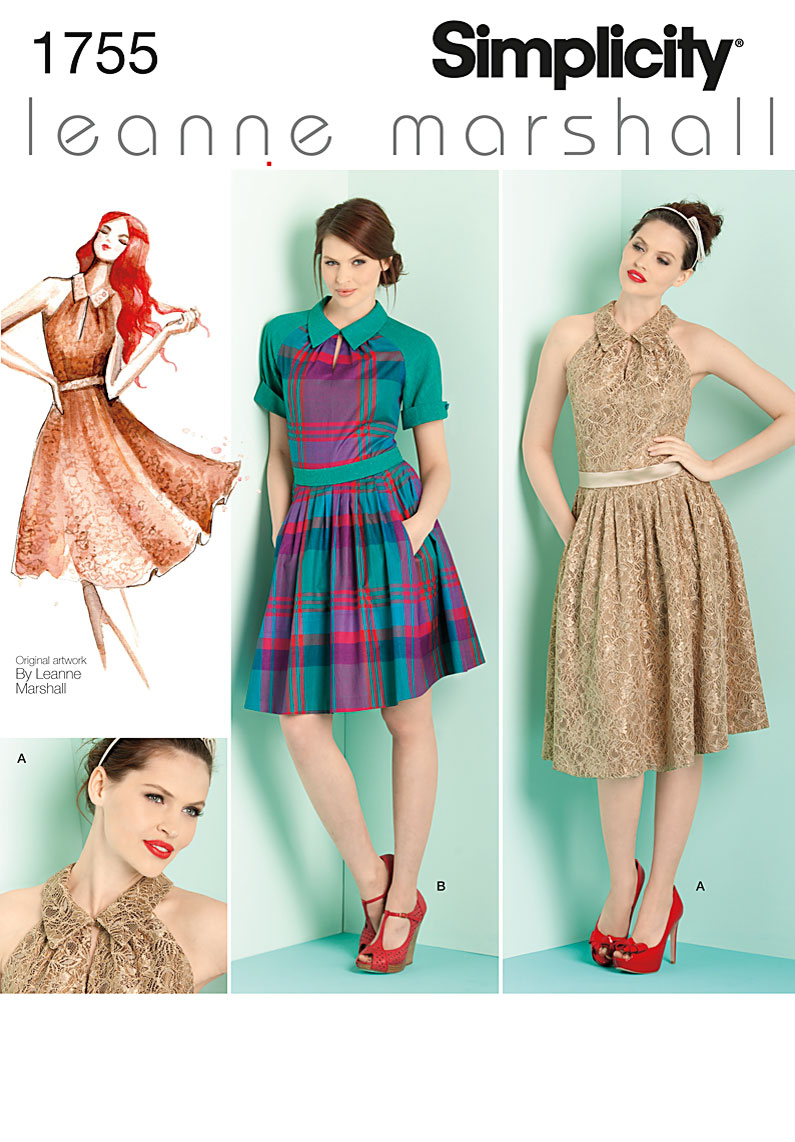 The bodice had to be pieced from nearly scratch and there was no lace overlay on the original, so I had to figure out how to do that...
Which I failed out. The bodice is not quite where I would want it, and a major wardrobe malfunction would definitely occur!
Therefore for my final garment, I have added more to the waistband which clears everything up nicely!
As for the other unfinished bits: I have to add the buttons all down the front. The button loops have been sewed in and the buttons bought, but I dread hand sewing all the buttons!
I have yet to cut the neckline scalloping, including the back.
The hem is also undone.
Although it sits there and taunts me, this was a good experience. When I tried it on, nearly everyone was impressed with how well it fit (minus the bodice), so the positive feedback actually outweighed the bad! And all the learning involved as well: working with lace overlays (and making sure the right side is up!), button loops, and mixing patterns.
Also, I obviously omitted the sleeves for this one because it was just so much green on green due to the busy lace. For my next one, I picked out a pattern with more negative space.
With the pattern alterations and the , so hopefully it will turn out much better! The pattern pieces have been cut for a while now, so it should sew up quickly when I actually have the time. I'll keep you posted. :)
Yellow Fleece Anise Copycat Gone Wrong!
I had just attended the Colette book event at Sew L.A. when I fell in love with the Anise pattern. Sarai had the actual jacket on display and it was so light and beautiful with cute details. I wanted it!
Isn't it adorable?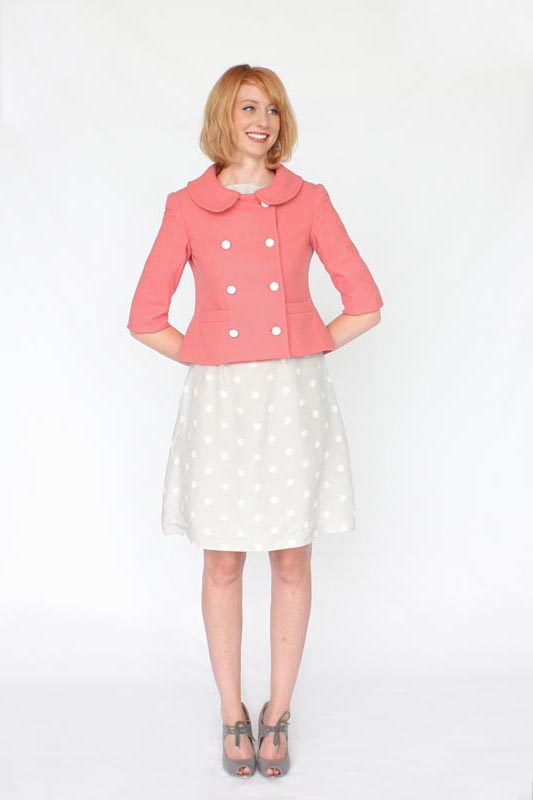 But alas, I told myself that I had to wait on buying new patterns...
So, I attempted to copy it using Simplicity 4032, which I posted about before
here
with my results below.
I needed to work in a few changes for sure:
Add a Peter Pan collar
Add a pretty detail
Add pockets
Bring the entire neckline up
I was able to accomplish the Peter Pan collar (#1) and add the stitched detail (#2) decently although the collar looks a bit wobbly.
A close-up of the sleeve detail (#2 again) and pocket (#3) shows that I was able to get it done pretty well again.
However, it definitely looks much worse from afar and I haven't yet put in the final touch of buttons and the final tailoring due to this fact, but this is what my unfinished mess looks like!
Yikes! Bringing the neckline up (#4) totally seemed to rearrange the entire coat into a big mess! Even the pocket is pulling badly in the wide view.
Anyways, the story has a somewhat happy ending. For our anniversary, my man actually bought me the pattern along with four others from Colette! Happy day! This lies unfinished, but I will possibly repurpose the fabric or attempt to tailor it correctly one day... We shall see!
Anyone else out there have any UFOs (unfinished objects)? If so, you are not alone!