At one point or another, we all decide to break out of the box and make our own patterns, either by modifying other patterns, using existing clothing, or making them from scratch. This was TOTALLY difficult for me, because the patterns I had already sewed worked pretty well for me with very little alterations. The prospect of failing was scary, and even though these projects were far from perfect, I learned from them and eventually tweaked them to my liking!
The reason I wanted to start sewing was to make a simple summer tank dress with an elastic waistband in fabrics that I liked. I had been seeing a few in stores, but they were either really expensive, in a terrible fabric, or in a fabric that would be instantly recognizable to someone else who frequented the store. That's when I decided that I would take a class to learn how to sew just a simple A-line dress. Little did I know how obsessed I would get!
In this post:
For the first few weeks of class, I was very good at making my crafting projects and learning a few techniques. In fact, I even finished a dress with sleeves, darts, and princess seams before attacking this item. I was sure that I would totally rock it!
And while yes, it looks fine, it wasn't what I was initially going for. First of all, the skirt hugs the body too much because I wasn't sure how A-line my skirt should be. So, I ended up hacking off too much. Also, you won't be able to see this, but my pockets ended up much too low initially and some clever internal seams helped to fix this without ripping apart the entire thing!
And although I do love the fabric, it doesn't drape well. I guess that's what happens when you don't follow the instructions on the back of the envelope (that doesn't exist).
I am impressed with how well the top fits though, and I won't make any changes to the pattern!
Overall, not a terrible project and I learned quite a few things: drafting a proper A-line skirt for my body, choosing the correct fabrics, and pocket placement. Lessons learned!
I found a printed bird fabric and decided I wanted to make a top out of it. However, it was a little busy and I didn't want to make the entire top out of the fabric, and therefore end up resembling a tablecloth. Therefore, the idea of a two-tone top came to me!
At first, I couldn't decide what style I wanted. One idea was to make a color blocked top, but it probably wouldn't have worked with a print. Then, I toyed with the idea of a baby doll top with the bust in the print and the purple "skirt" underneath, but it might have looked too juvenile. However, bodycon tops are huge now, so I settled on this style!
I traced an existing tank top that fit me, and drafted different pieces with for each of the fabrics and this is what I came up with!
I loved the look on my dress form, but I think it would have looked better with more of the print in the middle section, and therefore a thinner outside section.
Lesson number two was that the material didn't stretch nearly as much as my original tank top, and it was just a bit form fitting around my mid-section. And lastly, I realized the importance of following the neckline all around to make sure it was an even scoop, but I could say it was a fashion choice instead of a mistake and hopefully no one would be the wiser!
With two self-drafted patterns that hadn't worked yet, I wasn't expecting much from this project but I ended up so happy with the results! I was in love with this T-shirt from Anthropologie because of the ruched sleeves, slight boat neck, and cute print.
I had never ruched anything before, and didn't have a pattern, so I made my own!
Simplicity 2181
, View B was my starting point for a shirt pattern. I omitted the wrap detail and shortened the sleeves.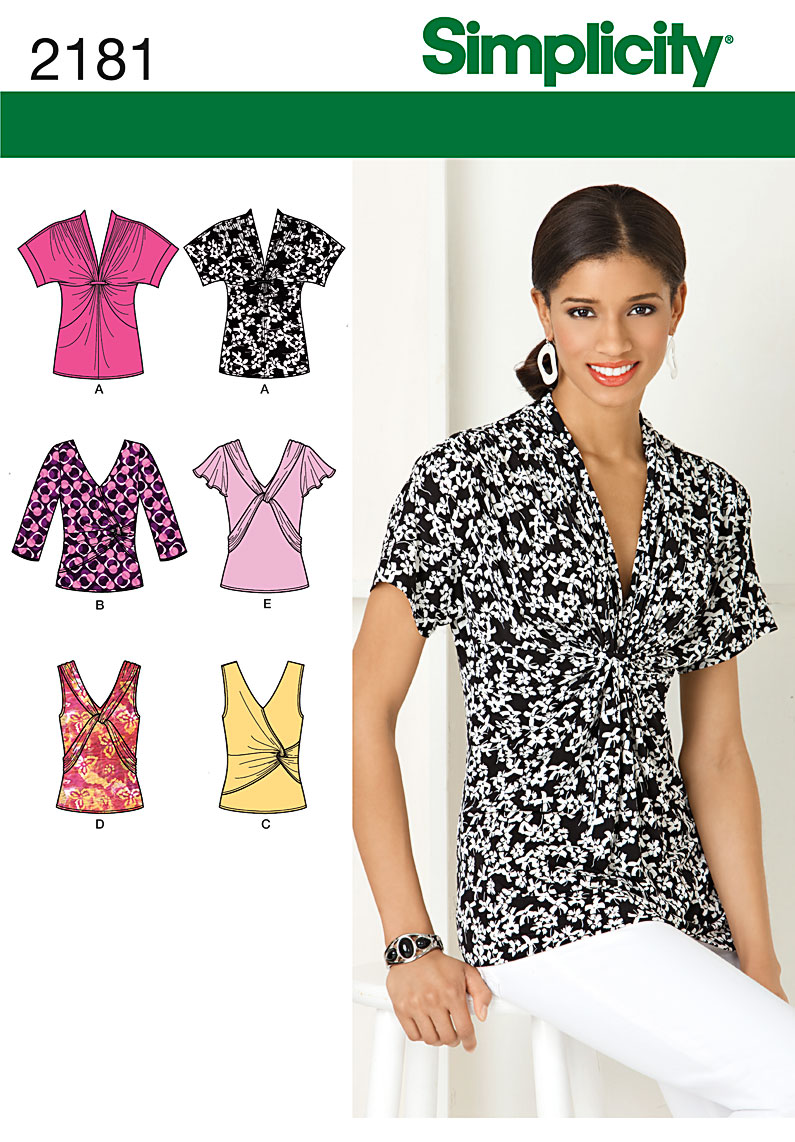 I had a cute turquoise polka dot fabric that I bought from a Sewer's Guild yard sale for $1, and it was just right for the job. It was barely enough for the pieces I had to cut out, so I actually had to rotate the back piece on my fabric 90 degrees and hope there would still be enough ease and stretch through the front to fit on me! I was definitely nervous from my last shirt...
Apparently, I didn't have to worry because it turned out great. This is possibly the worst that any of my garments have looked on my dress form, but I swear it looks much better on me!
I'm obsessed with polka dots, they're just so entrancing if you stare for a while... :)
Although the sleeve looks like this on the dress form...
It looks like this on me!
Pretty spot on compared to the original, right?
********************
Anyways, I felt a little awkward not using pattern pieces at first, but now I have a tiny foundation into what goes into making patterns. Also, if there's something I see in the stores, magazines, or blogs that I want, but there's no comparable pattern, I'm going to take a crack at making my own from now on!
Has anybody else had a hard time with drafting patterns (even if it's not from scratch like mine), or am I the only one?