First of all, I wanted to thank everyone who has been amazing with comments and emails of support and compliments. I am certainly having a lot of "aw-shucks" moments lately!
Also, I updated my previous post
here
to include (slightly) better pictures of my Christmas dress, "fur" wrap, and NYE dress.
So for today, I thought I would share some of the first garments that I actually wore in public. The first time I wore each of these items, I thought that either everyone would point and laugh or that it would completely disintegrate like a paper doll dress.
Luckily none of these things have happened, and I even had a couple of compliments! Victory!
********************
In this post:
Remember, I first began sewing in April and for the first several weeks I did a bunch of beginner projects (pillow cases, binder covers, etc.). Then, I moved on to my first dress which I will blog about later. It was a trial for a lot of techniques, but I knew I wouldn't wear it anytime soon.
By the time I finished, it was the end of June and I was in need of a fun summer dress!
I only decided to attempt a maxi dress because my sister (who is as short as I am) told me about how it actually made her look taller. Sold!
I decided to use Simplicity 3503 and an orange stretch jersey with white stripes bought at the swap for $1/yard. Because it had stripes, I didn't want to resemble a jailbird, referee, Waldo, etc. so I decided to cut the skirt with the stripes running diagonally at the bias. I'm thrilled at how it turned out!
I'm especially proud of the way I matched up the stripes in the middle of the bodice. Hard to tell, right? Also, the stripes match up at the side seams as well, which you can see in a later picture.
By the way, I just hung the dress over my dress form which is why the fabric is pulling away. It actually fits really well!
And for comparison, here is the pattern using the bottom left view.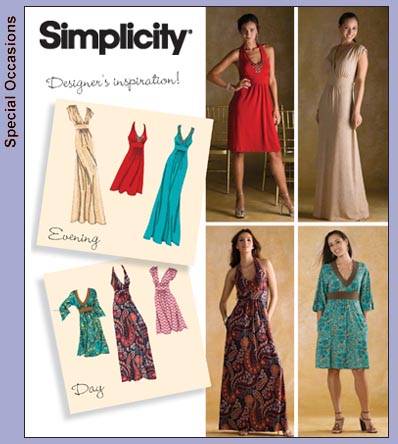 I wanted to be able to wear wedges with the dress, so it was hemmed pretty low. However, I thought that if I was wearing flip-flops and needed to run around that I should somehow be able to bring the dress up hands-free.
With the help of a button from the swap meet (10 buttons/$1) and a hair tie from the swap meet (50 ties/$1) I did just that! Total for this project = about $3
I really love this dress! I received lots of compliments last summer, and it looks put together while still being super comfy. I can't wait until next summer! I already have another short version cut out because the bodice fits me with no alterations, and it will be my first time attempting a pattern twice!
My friend introduced me to
Colette
patterns even before I started sewing. I was in love. Then when I actually learned how to make a couple of garments, I went back to the website and found the free
Sorbetto pattern
. There are a million variations of this EVERYWHERE!
I had never made anything with a printed pattern, so it was fun to piece together the puzzle before making the garment. I had also never worked with bias tape, so it was a learning experience.
For the fabric, a drapey polka dot fabric (no idea what kind) for $1/yard and white bias tape for $1/4 yards. Another project under $2!


My first time working with bias tape! Not flawless...


A close-up of the pleated front.
The verdict is that I would easily make this top again. There are so many variations that there is no way to become bored with the pattern. However, I would not use this fabric because it was not at all breathable, which an easy shirt like this needs. Also, my bias tape technique has improved since then, so I would expect less gaping at the neckhole next time.
By the time I made this skirt, I had made 3 dresses, 2 tops, 1 pair of shorts, and seemingly countless crafts & pouches. It seemed natural to make a skirt next!
I had bought a small piece of corduroy from a Sewer's Guild yard sale for $1 and knew I could only had enough for a short skirt. I used a zipper with metal teeth bought from the swap meet (5/$1), to make a total of less than $2.
I used Simplicity 2451 View D (minus the decoration) for my skirt.
Here is the result!
In reality, the skirt ended up a bit bigger than I would have liked, but that made it easier for me to tuck sweaters into it and show off the waistband.
I still can't believe I've made this article of clothing! Maybe it's because I assumed corduroy would be hard to sew that I am amazed how easy this came together in a few hours. Also, I think it looks like it could be bought at a store, so that's a win for me!
Did anyone else have that nervous feeling the first time they wore a homemade garment in public? Or was it just me being overly nervous!